In those days, Policewomen had to stay focus with their profession without getting married while policeman were allowed to marry and have their own wives and children's. Any Policewomen who intentionally marry will have her contact terminated or a Policewomen have to relinquished her position as a Policewomen before she can get married till Ghana's first Policewomen the late Rosemond Asiamah Nkansah found it discriminatory and she petitioned the Government against the inequality.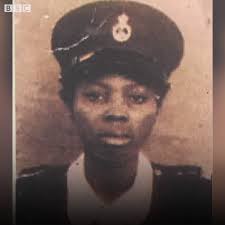 This is Mrs. Rosemond Asiamah Nkansah the late.
The Government of Ghana barred Policewomen from getting married or having their own children with the claim that police work was too difficult or tough for a divided attention and with this, Policewomen shouldn't get married or get pregnant in the line of the service. Mrs. Rosemond Asiamah Nkansah found it discriminatory that, Ghanaian Policeman could have their wives and children's while Policewomen couldn't. Her petition led the Government to rescind it's decision and it was cancelled which pave way for more women to join the force in 1958.
Thanks to Asiamah's advocacy and the effort made by her eleven other colleagues for the good work done. If that could not happened, we would have had less women in the service than we have now.
Please follow me, read and share with friends, drop down your comments and stay in touched with me for more informative and educative articles Thank you.
Content created and supplied by: ThePowerMan (via Opera News )