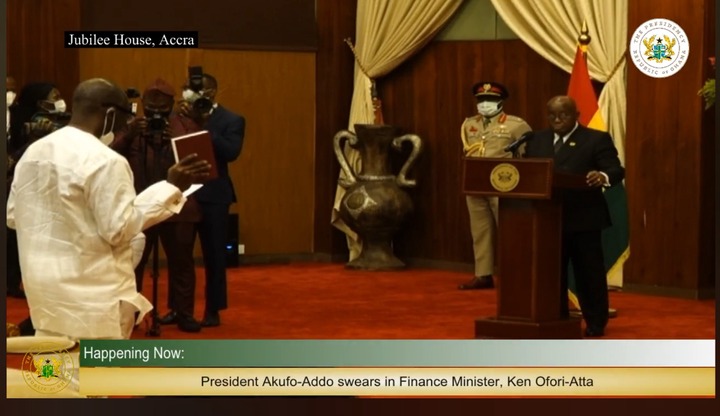 After the heated vetting and approval of the Finance Minister Ken Ofori Atta by Ghana's Parliament, the President H.E Nana Addo Dankwa Akufo-Addo swears him into office. The evening at the Presidency is lit with excitement as the President could now have at least a Al almost full.compliment of his cabinet to chart the developmental agenda for his second term.
The Finance Minister is a prime official of the Akufo-Addo government, and with his swearing in, certain cappings that were effect on financial approval and spend by the govenrmtn could be reviewed. In effect, from tonight Ken Ofori Atta is granted the keys to resume operations from the Ministry of Finance, an office he had served over the past four years.
Taking his oath tonight, Ken Ofori Atta promised to act diligently and in the interest of the Ghanian people. In serve and honesty, the assurance gives the President some hope as his trusted official is determined to help position the financial status of the country amid COVID-19. He is reported to have projected to grow domestic revenue by some 35 percent to supoort the national kitty.
His vetting was delayed due to his ill-health, which caused him to receive some emergency treatment in the United States of America early days in the initiation of the vetting of ministerial nominees. Some political actors felt disappoint initially arguing that his vetting should have preceded all others.
But some calm and understand settled in as they got to realize how threatening his post-COVID condition was. In his words after the treatment, Ken Ofori Atta said it was such a divine healing he received as the doctor's couldn't understand the rate at which he recovered from the dire situation.
Watch the swearing ceremony here.
Content created and supplied by: Facts_GH (via Opera News )