The "krrr" sound of the phone in the Bhagavanpur police station in Bihar wouldn't put the ears of the innocent policemen to rest. It was one busy day in the year 2007, silence had gained total control over the room till that call came in. The phone kept ringing over and over again till it's plea was finally attended to by the busy policemen.
Never did they anticipate hearing one of the weirdest stories in the world via that strange phone call. The numerous phone calls were coming from a small hamlet in Bihar and the message it carried was too much to bear.
Now, let me break the strange news to you.
The villagers brought to the notice of the Bhagavanpur police that they had a young merciless murderer with them. They then asked the police to come over to their village to arrest the culprit. Upon rushing to the village, the police couldn't believe their eyes. Standing before them came an 8 year-old child known as Amarjeet Sada. This story was reported by Sunil.
Amarjeet Sada was born in 1998 in the Begusarai district in Bihar. The family relocated to the Mushahari village after sometime. Poverty had been the hallmark of the family for too long that raising money was a big problem for the family. Amarjeet's father was said to be a farmer with absolutely no huge capital.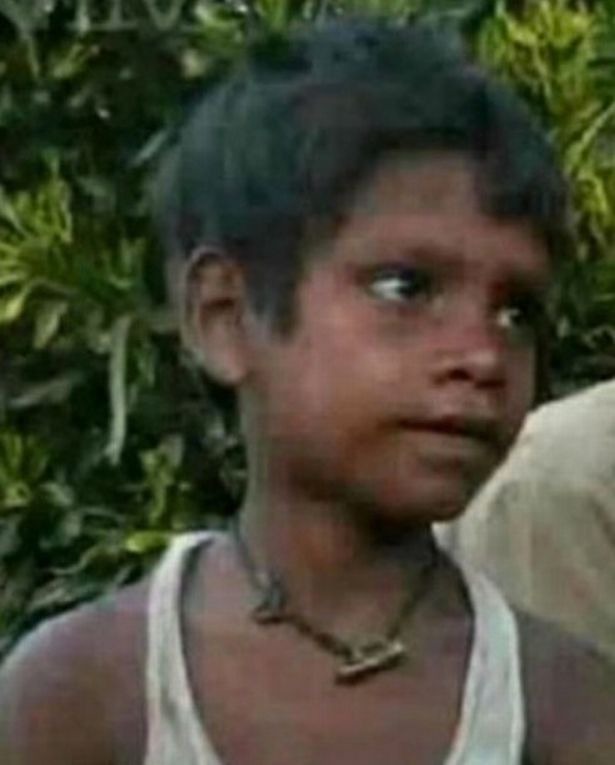 The policeman after seeing the little kid were shocked and doubted the words of the villagers. "Could they be joking? Was it the right time to even pull a prank?" They then rebuked the villagers for reporting such an incident. There was no way that news was going to be true
How could a boy too young that age commit an atrocious crime like that? At this point, they didn't want to accept what they were hearing but they had to finally take the words of the villagers for they were the truth flowing like streams of pure unaldultered words from their mouths.
You would expect Amarjeet to be shaking at that point but he was unflurried at that moment. He accepted committing all those series of murders they claimed he did and explained them one after the other.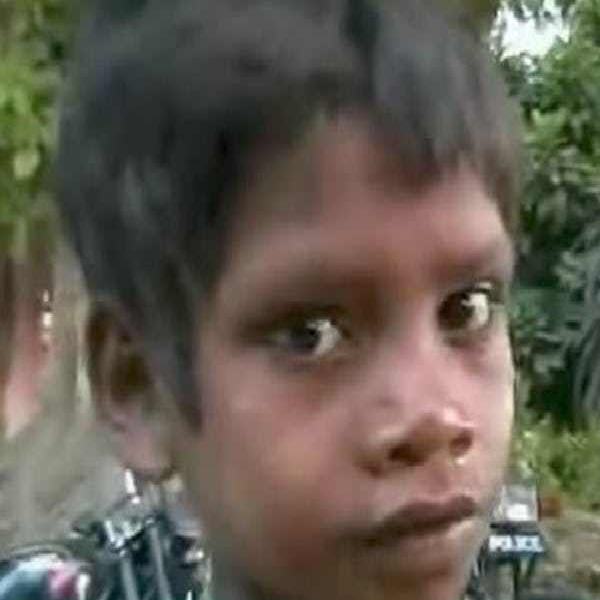 Was it a movie they were watching? The policemen though listening to the kid narrate his story, all you could see on their faces was shock propagated to the highest order. What intensified their shock was the fact that, this little kid before them actually killed a six month old baby girl like nothing happened.
Chung Chung Devi was said to be the mother of the baby. It was said that she laid her "sleeping beauty" in a primary school which was quite proximal to her house. She then went home to do her chores leaving her baby in a safe place. Upon returning from home, there was nowhere her daughter could be found. She searched and searched over and over again but her efforts seemed futile.
As at that time, Amarjeet had already squeezed the precious life out of the baby's little body. It is said that the baby went by the name "Khushboo".
Luckily for Madam Chung Chung Devi, the people in the village caught him and questioned him after seeing bloodstains on his hands. Amarjeet confessed and narrated the whole story without even showing an sign of remorse.
It's shocking realizing that wasn't his first murder. His first murder happened when he was 7 years of age. He confessed that he had earlier eliminated two more infants aged 6 months and a year from the world.
He disclosed to the villagers that he was responsible for the death of his own sister who was just a year old. What kind of wickedness was embedded in this little boy? He claims the baby was sleeping when he carried her to a deserted field. He went with her but never returned with her.
After being questioned where the baby was, he directed them to the field and showed them her dead body that was covered with grass and dried leaves.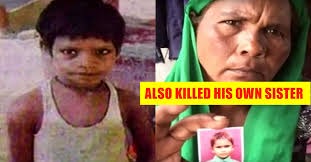 The murderer in him wasn't tamed after that murder, as he found his next victim in his cousin. It is said that his family members knew he was the one who committed all those murder cases but they tried protecting him by covering it up. Guess what, this is what motivated him to do more because he knew they would always protect him.
Amarjeet was then taken to the police station and was asked why he killed those innocent souls but he wouldn't talk. All he did was smile before finally asking them to get him biscuits. After taking in the biscuits, he spilled out words like he had been on a remote control.
He said after taking the kids to the deserted fields, he hit them on their faces with bricks till they could no more cry. He would then hide them using grass.
I wonder how an 8 year-old boy wouldn't feel any sympathy hitting the face of another human with bricks. Surprisingly, the police had never heard of such incidents earlier since Amarjeet's family always covered it up.
The policemen were even scared of him. Was he a god? Well, no one knows. They decided to call a psychiatrist to come and examine the young murderer. Despite being a minor, Amarjeet's real name and photos were intentionally published in the media.
The police had taken such a precautionary step following the psychiatrist's diagnosis that Amarjeet was a dangerous killer who had a mental disorder. Though a kid, Amarjeet's case was going to be investigated as a murder case by the police.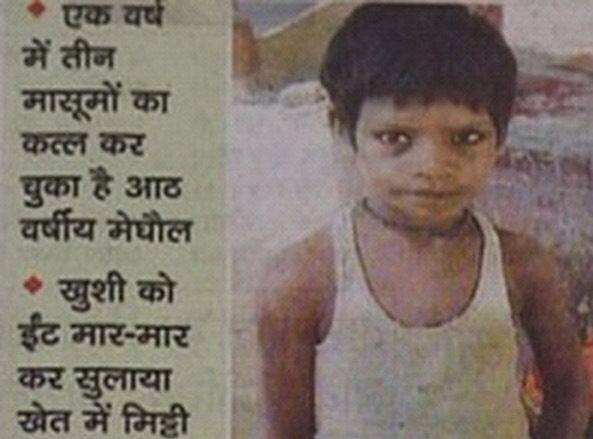 Amarjeet was later diagnosed by the doctors as a sadist who found joy in seeing other people hurt. He was born with a mental disorder which motivated him to commit murders without feeling any form of sympathy. They finally added that, the mental problem of Amarjeet could be cured completely through medications and therapies. They had to make sure he completed the course of his medications and was completely okay.
They added that, "it is extremely dangerous to leave him free before treatment because he hasn't acquired the ability to differentiate between right and wrong and might attack another person again".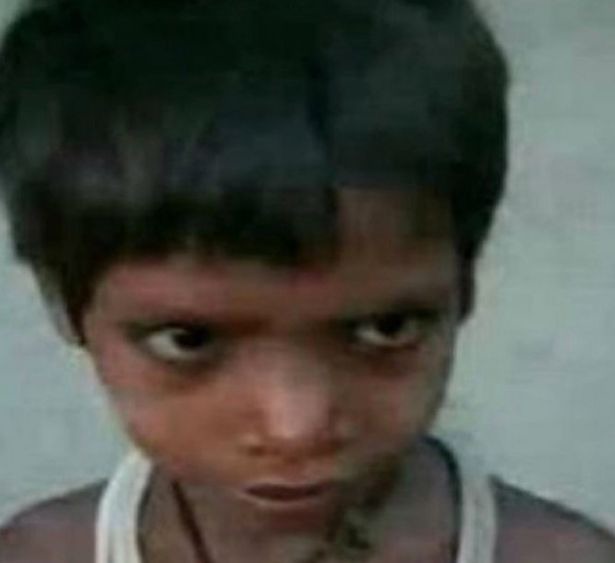 Rumors spread about how Amarjeet lazily smiled at the judge who indicted him. He was taken to a juvenile home where he served his sentence. For the safety of the other kids in the juvenile home, Amarjeet was isolated from them.
Content created and supplied by: the_Kelvin_guy (via Opera News )
Opera News is a free to use platform and the views and opinions expressed herein are solely those of the author and do not represent, reflect or express the views of Opera News. Any/all written content and images displayed are provided by the blogger/author, appear herein as submitted by the blogger/author and are unedited by Opera News. Opera News does not consent to nor does it condone the posting of any content that violates the rights (including the copyrights) of any third party, nor content that may malign, inter alia, any religion, ethnic group, organization, gender, company, or individual. Opera News furthermore does not condone the use of our platform for the purposes encouraging/endorsing hate speech, violation of human rights and/or utterances of a defamatory nature. If the content contained herein violates any of your rights, including those of copyright, and/or violates any the above mentioned factors, you are requested to immediately notify us using via the following email address operanews-external(at)opera.com and/or report the article using the available reporting functionality built into our Platform See More