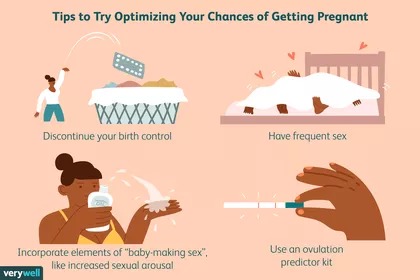 Are there things you can do to get pregnant fast? Definitely, but they don't work for every couple. People have a variety of different reasons for wanting to conceive quickly. Maybe you want to space your children a certain number of years apart. You might want to get pregnant because your partner is in the military, and you'd like to conceive before deployment. Or, you may just be eager to become a parent.
Some couples will get pregnant after trying for a month or two. But, for most, it takes longer. Keep in mind that it may take many months to get pregnant—and one in 10 couples will experience infertility. The good news is that there is help out there.
Stop Using Birth Control
Obviously, if you want to get pregnant, you need to stop using birth control. What you may not know is that you may need time for your fertility to return. It depends on what kind of birth control you were using.
Set Realistic Expectations
However, it's not always a simple and quick process. If you have an implant or an IUD, you'll need to schedule a doctor's appointment for removal. That takes time. It may also take a few months for your cycles to regulate after hormonal IUD removal. (With a copper-only IUD, your fertility should return quickly.) If you've been on the birth control shot, it may take several months for your fertility to return.
Talk to your doctor so you have realistic expectations when you can start trying to get pregnant.
Have Lots of Sex
Having sex often for the entire month is good for baby-making. Every other day or every two days is a good amount, according to research and the opinion of the Practice Committee of the American Society for Reproductive Medicine.1
You could aim to have sex every day of your cycle, but for most people, this will lead to burnout, and it's really not necessary. Having sex three to four times a week boosts your chances for success because it increases the odds of having sex on your most fertile days. If you're only aiming for ovulation and you make a mistake, you may lose that month.
Maximize Your Odds
You may be able to get pregnant faster if you optimize your conception sex, which includes things like timing, frequency, and understanding when in your cycle you are most likely to conceive.
One important thing to be aware of is that regular personal lubricants, like Astroglide and KY Jelly, are harmful to sperm. The best lubricant for conception is your own cervical fluid. But if this is an issue for you, there are sperm-friendly options available, such as mineral oil, canola oil, or hydroxyethylcellulose-based lubricants such as Pre-Seed and ConceivEase.
However, research on Intrauterine Insemination (IUI) found that lying down after insemination boosts pregnancy rates.2 If you're trying to conceive faster, you may want to at least try lying on your back after sex for a few minutes. On the other hand, if missionary position is a big turn-off for you, maybe more creative positions would help.
Research has found that sexual arousal plays a role in how much sperm is ejaculated.3 Female orgasm may also help with conception. So having passionate sex may help you get pregnant faster as well. That said, don't stress about having an orgasm. You can get pregnant whether you orgasm or not!
Track Your Ovulation
Your most fertile days are the two days prior to ovulation. You can figure out which days these are through several methods, including charting your body basal temperature (BBT), checking for fertile cervical mucus, tracking cervical changes, and using a saliva ferning microscope.
The problem with all these methods is they have a steep learning curve. For BBT charting, figuring out how to get your temps right in the morning and interpreting your chart is an issue. You may have an easier time using ovulation predictor kits or ovulation monitors.
Ovulation tests work like pregnancy tests. You pee on a stick or strip of paper to get a result. They are a little more difficult to interpret than pregnancy tests, so read the instructions carefully.
Fertility monitors take much of the learning curve out of ovulation tests. The digital device tells you when you're most fertile. They are more expensive, though, so you may want to combine charting with ovulation predictor kits.
Boost Your Fertility
In the short term, there are quite a few things (many of which are probably obvious) that a people can do—and not do—to increase their chances of getting pregnant.
To keep sperm healthy, keep the testicles away from heat. Hot tubs, laptops placed directly on the lap, seat warmers, and sitting too long with the legs close together can all increase the scrotal temperatures.4 This can negatively impact sperm counts.
And finally, the most oft-repeated health tip—quit smoking and cut down on alcoholic drinks. This is important for both male and female reproductive health. This will not only improve your health now but also help you have a healthier pregnancy and child.
There are other things you can do to improve your fertility and overall health that take more effort and time. People should try to achieve a healthy weight before trying to conceive, as being just slightly overweight has been shown to decrease fertility.5 Obesity may also negatively impact male fertility.
Wait to Take a Pregnancy Test
Taking pregnancy tests won't change how quickly you get pregnant, but it can affect your perception of time. Especially if you take multiple early tests, "peeing on a stick" frequently can make the days and weeks feel much longer.
Instead, commit to only taking a pregnancy test when your period is at least one day late. In other words, if you expected your period on Tuesday or Wednesday of a particular week, don't take the test until Thursday. Better yet, wait until Friday.
It's not easy to wait to see if you're pregnant, but remind yourself that when you take an early test, you are more likely to get a false negative anyway. (In other words, even if you did conceive, the test may not reveal that you're pregnant.)
Content created and supplied by: FalaaMedia (via Opera News )
Opera News is a free to use platform and the views and opinions expressed herein are solely those of the author and do not represent, reflect or express the views of Opera News. Any/all written content and images displayed are provided by the blogger/author, appear herein as submitted by the blogger/author and are unedited by Opera News. Opera News does not consent to nor does it condone the posting of any content that violates the rights (including the copyrights) of any third party, nor content that may malign, inter alia, any religion, ethnic group, organization, gender, company, or individual. Opera News furthermore does not condone the use of our platform for the purposes encouraging/endorsing hate speech, violation of human rights and/or utterances of a defamatory nature. If the content contained herein violates any of your rights, including those of copyright, and/or violates any the above mentioned factors, you are requested to immediately notify us using via the following email address operanews-external(at)opera.com and/or report the article using the available reporting functionality built into our Platform See More