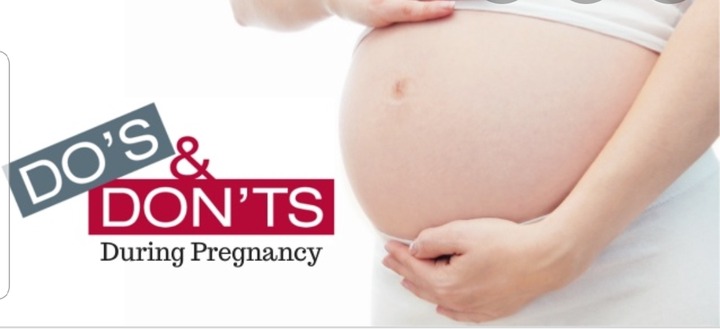 When couples find out they have conceived, its a time to jubilate. This is because a child is a blessing in many ways and this will be an exciting journey for them. However, there are a number of things you should know from the start, things you can and can't do.
a list of do's and don'ts to ensure a healthy pregnancy are as follows;
Pregnancy Do's
Some important things you should do during your pregnancy include:
Getting enough sleep and avoiding stress.
Get atleast six to eight hours of sleep a day to help you restore lost energy and also boost your immune system. Stressing your self over petty issues may result in an unstable mindset and this will go along way to affect your baby's health.
Exercise regularly.
Sitting down a lot is not healthy for you or your baby. It puts you at higher risk of too much weight gain, gestational diabetes and pre-eclampsia.
If you were exercise before you became pregnant, you can continue at the same level but listen to your body and slow down when you feel uncomfortable. If you didn't exercise before you became pregnant, you don't have to take up organised exercise classes, the important thing is to be active.
Increase fluid intake.
Fluid intake is also an important part of pregnancy nutrition. Women can take in enough fluids by drinking six to eight glasses. This reduces dehydration and prevent "Oligohydraminus" a danger signs in pregnancy.
Do go to sleep on your left side in the third trimester.
Going to sleep on your back in the third trimester increases your risk of stillbirth or "IUFD" intra uterine fetal demise . You may wake up in all sorts of positions during the night, and that's OK, but if you go to sleep on your left side it will safe the baby as well.
Take in folic acid.
Folic acid reduces your baby's risk of neural tube defects. It is advisable to start taking it two to three months before conception and recommended to continue taking it until the end of the first trimester.
Take in vitamin D.
Vitamin D helps your baby develop healthy bones, teeth and muscles. It helps to regulate the levels of calcium and phosphate in your body. You need these to keep your bones and teeth healthy.
Do monitor your baby's movements.
Your baby's movements are a sign that they are well. Start monitoring movements at around week 24 and if you notice a reduction in movement seek help immediately. As the fetus continue to grow, their movements be come limited so expectant mothers should pay closer attention to their movement in other to be able to detect any abnormalities.
Carry your pregnancy notes.
It is important to carry your antenatal book everywhere you go as they contain all your medical and pregnancy history. This is particularly important if you need to go to the maternity unit, especially at short notice, as this is will help health professionals to be able to see your history and what has been happening in your pregnancy.
Avoid exposure to cleaning solvents, pesticides, lead and mercury.
Eat a balanced diet that includes folic acid, iron and calcium.
Maintain safe travel habits, such as correct seat belt usage, finding a comfortable seat and reducing air-condition.
Don'ts do these in pregnancy.
To keep your baby healthy, stay away from the following:
Don't eat for two.
Pregnant women think because they are carrying a baby mean they have to increase their quantity of food. There is no need for extra calories throughout pregnancy period.
Don't smoke tobacco and avoid drinking alcohol.
It's never too late to stop. Smoking is a major risk factor for all sorts of health problems for your baby. Think about getting support. Stop drinking alcohol, especially in the first trimester when the baby's brain is going through a period of intensive development.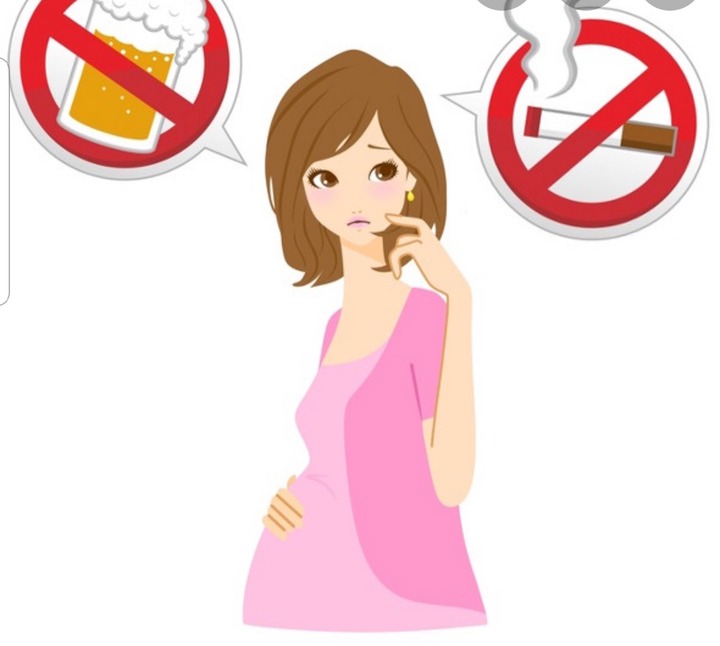 Don't take drugs.
Don't take any medicine unless your doctor approves it. Cocaine, cannabis, are all likely to increase risks of health problems.
If you are taking illegal drugs it is really important to talk to your midwife or doctor for care and support.
Don't drink too much caffeine.
High levels of caffeine during pregnancy can result in low birth weight babies, which can increase the risk of health problems in later life. Too much caffeine has also been linked to miscarriage. An expectant mother should talk with her midwife about restricting her intake of caffeine and artificial sweeteners.
Steer clear of vigorous activity that could involve a risk of falling or overheating. Stay away from heavy lifting and bending.
Avoid hot temperatures.
Don't take hot baths or use saunas. High temperatures can be harmful to the fetus or lead you to faint.
Stay away from radiation. X-rays should be avoided during pregnancy. No doctor will recommend an X- rays to an expectant mother unless it the last resort.
Content created and supplied by: Rahmed (via Opera News )