Anastiata's abnormal fingers
Is it very hard to tell what awaits us in the future because if we do, everything could be much more easily done than it is right now. This article is about a woman called Anastiata who is born different with extraordinary fingers and toes. She is also 90% visually impaired. Her fingers and toes are not normal at all since she has three fingers on each hand and two toes on one foot which is not in any way normal. Meet Anastiata whose fingers and toes shocked the world.
According to Anastiata, she was born with her disability, that is, her foot and fingers but with her visual impairment, it was like that at all. A few months after she was born, her eyes started closing. Her mother took her to the hospital so that she could get treatment. By then, she was still a baby and the doctors said to the mother there was no way they could operate on a baby since that could let her lose her life. They were advised to come back for the surgery when she was more years older.
A few years later, she was taken to the hospital for the surgery to be performed on her. The doctors tried to cut her eyes open which was not possible on the right eye and was not also fully opened. According to her, the right eye does not have a clear sight.
Anastasia was born in 1986 which means that she is 36 years old now and for all these years, she has been using only one eye for sight. This is a clear fact that life has not been good to her at all. After she had gone through the surgery, the first thing she wanted was to see how her parents look like and according to her, it was the most incredible feeling that happened to her, though her sight was not very clear. She did not see them for a long time because few days after she regained her sight, she lost both parents. This was something that gave her time to believe that her parents were gone.
She lives in her parents' house alone and tries as hard to manage her life by herself which was not easy at all with fingers that can barely hold anything. She was almost blind and a good Samaritan gave her food to eat but this did not last for a long time. Since she lives alone, a man came and took advantage of her and she got pregnant. When the man knew that she was pregnant, he walked away. It was very hard for her to suffer alone but she managed to take care of herself and her pregnancy and gave birth to a baby.
She gave birth to a baby boy who is now 11 years old but he too has a disability. He has all the fingers a normal person has but his hands are disabled and he cannot hold anything at all. This means Anastiata is the one doing everything for both of them.
Years later, a man came into her life and they both fell in love and were ready to spend the rest of their lives together but when she was 6 months pregnant, he also walked away. According to her, the man was an opportunist who thought her parents had left properties for her. When the man realized that she had nothing, and her feet were disabled, he ran away.
She gave birth to her second baby but because of the poor situation that they lived in, her second child did not survive for so long because he later died when he was just 3 years old. All she has got now is her first son who she loves so much. Surprisingly, all these men did not realize her disability at first because she covers herself and wears shoes to the extent that one could hardly notice what is wrong with her body. After some time, she decided to reveal herself to these men and once they look at her, they once immediately walk away.
Every day, she has to go and dig, and holding the hoe is not too easy for her at all but she has no option other than to do it since her son does not work at all. Her son does not go to school because she cannot afford to pay his fees for him and all he does is stay home while he watches other children go to school which is very heartbreaking but the young boy has hope that one day, he will also go to school.
Watch the video below;
https://www.youtube.com/watch?v=V9-IQLGg60Y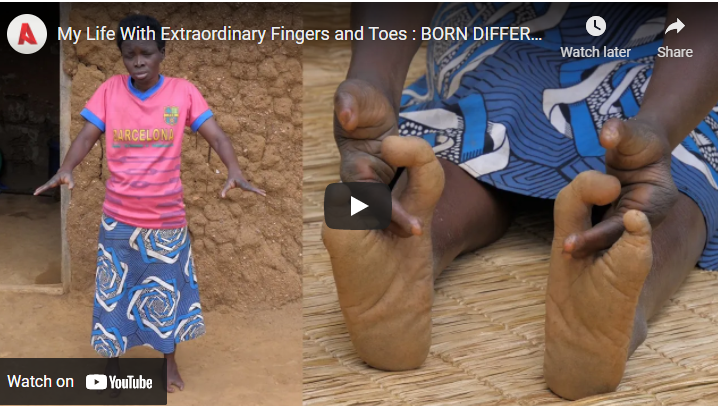 Content created and supplied by: SamColeNews (via Opera News )