59-year old husband weeps as wife confess 'Gate Man' as the father of his children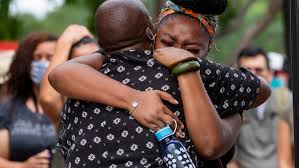 Whatever we do, we shall all give account to it one day. Mr. Kobina Koomson, a security man who was struggling on the streets, and later blessed with a job from a strange man. Has become the father of the children, of that man who saved and helped him. Kobina is a 28 year old man who hails from Effutu, but has been living at Nobuwam for the past seven years. Mr. Ankah was driving from Kumasi to Nobuwam seven years ago, when he saw someone struggling under a bridge. It was raining and the person seemed sick. He park behind and watched how the man was shivering. He called an ambulance and directed them to the bridge. 
Mr. Ankah followed the ambulance, and paid for the hospital bills before living for Nobuwam that day. He received a call back from the hospital administration that, the patient he brought was fine. He instructed them to find his family and let them contact them, he did that only out of help. He couldn't see him die under the bridge, that was why. Hospital administration told him, the man had no family, and he couldn't remember anything. Mr. Ankah went to the hospital, the next day and sorted everything up with the hospital. 
He took Kobina to his house at Nobuwam, and introduced him to his wife as the security man, for their house. Mr. Ankah did not abandoned Kobina Koomson, and rather gave him a job after saving his life. Kobina started a post as a gate man for Mr. Ankah and his wife, on 19 June 2013. The couple who were struggling with child birth, was blessed when Mrs. Ankah saw changes in her body, on December 2015. Mr. Ankah praised his redeemer for giving him his blessings. From 2015 to 2020, the couple were blessed with four children, whom two were girls and two were boys. 
Mr. Ankah never played with the attention of his children, and made sure they got everything they needed. Kobina Koomson was taken as a brother by Mr. Ankah, and he never suspected him of doing anything bad with his wife. Mr. Ankah found a revealing information about his children on July 2020, and never cared to investigate. He was going to donate blood to one of his children, when she was hospitalized, and that was when he found out they were not blood compatible. It didn't mean anything to him, and the hospital nurses were able to get blood, to save his daughter's life. 
Mrs. Ankah felt ill and almost died in November last year. Through the intervention of drugs, she was able to recover temporary. She started developing stroke and felt weak every day. Mr. Ankah who comes from a spiritual family, took his wife to his family house, for consultation with the gods. Mr. Ankah is the eldest grandson, of one of the powerful shrines in Asante. Men from his family, are supposed to marry certain types of women. Mr. Ankah who never believed in those philosophies, called it useless and disobeyed the order. 
His mother told him, he will pay for it if he goes against his family's tradition. Mr. Ankah never respected any spiritual deity, and forced his wife on his family, and they supported him for the marriage. It was that reasons, his family gods punished him and he wasn't able to have children. The fetish priest of the Ankafo shrine, made him aware that, all the gods needed from him was coming back to seek for forgiveness. All the hassles he was going through, was none but the gods doing. Mr. Ankah didn't understand what the fetish priest was saying, when he took his wife to the family house this morning. 
He only wanted to know if it was in deed true that, his wife's condition was spiritual as his doctors made him see it. His personal doctors after treating the wife for over six months, begged Mr. Ankah to see a spiritual healer for consultation. The doctors believe the wife's medical conditions, were not normal. It was at the shrine, the fetish priest made the entire family aware that, Mr. Ankah's stubbornness was why his wife was suffering. The priest forced the wife to confess, or she was going to perish at the shrine. 
Mrs. Ankah could not understand why she wasn't having a child, after her marriage. She visited all hospitals she knew, and there was no problem with her, so as her husband. She decided to try someone else, and see, if there was any luck. That was when she got messed up with Kobina, their gate man. Mrs. Ankah got all the four children from Kobina, and she was been punished by the Ankafo shrine for that sins committed. 
Mr. Ankah was consoled by his family members who were present at the shrine. Kobina Koomson who is still at post at Nobuwam, still doesn't know what has happened. The wife herself made it clear that, Kobina doesn't even know he is the father of the children. She usually drugged him when serving him food, and that was how come she was able to get all the four children. Mr. Ankah could not hold his tears, as he found out the truth about his children. Mrs. Ankah was afraid of been called a barren woman, and in so doing, went behind her husband to get children. 
Content created and supplied by: RockyJDJones (via Opera News )