There is a common mantra in Ghana which says "Nowhere Cool", in other words, life's hardship is everywhere. But then,there is also a fact that no matter how hard anywhere in the world is, things are at unimaginable levels in developing countries most of which are found in Africa, Ghana inclusive. 
Because hardship is something the everyday Ghanaian is familiar with, there is a 'natural' adaptation trait that comes with anyone born in this part of the world.
Westerners who travel to such places often wonder how we are able to survive daily since we are not opportune to have the basic things that make life very easy in the developed world.
In this hardship our tough and creative nature is revealed. 
Whenever you greet a greet a Ghanaian and you ask of how they are faring and they respond, "I'm managing", what they actually want to say is that, amidst all the difficulties, they are able to find a way through to survive.
A pictorial evidence is an image we came across which shows the resilience and creativity of the average Ghanaian is endowed with. 
A sachet water seller was spotted doing her normal rounds of selling water, but then this vendor obviously trying to diversify her sources of income had added a rather creative way of 'advertising' other things she could do. She had an A4 sheet pasted on her chest having an inscription informing people that she could also wash, for a fee. Her phone contact was also added to it, just in case someone wanted to patronize her services.
Which part of the world can this person not survive?
Ghanaians are indeed a tough group of people.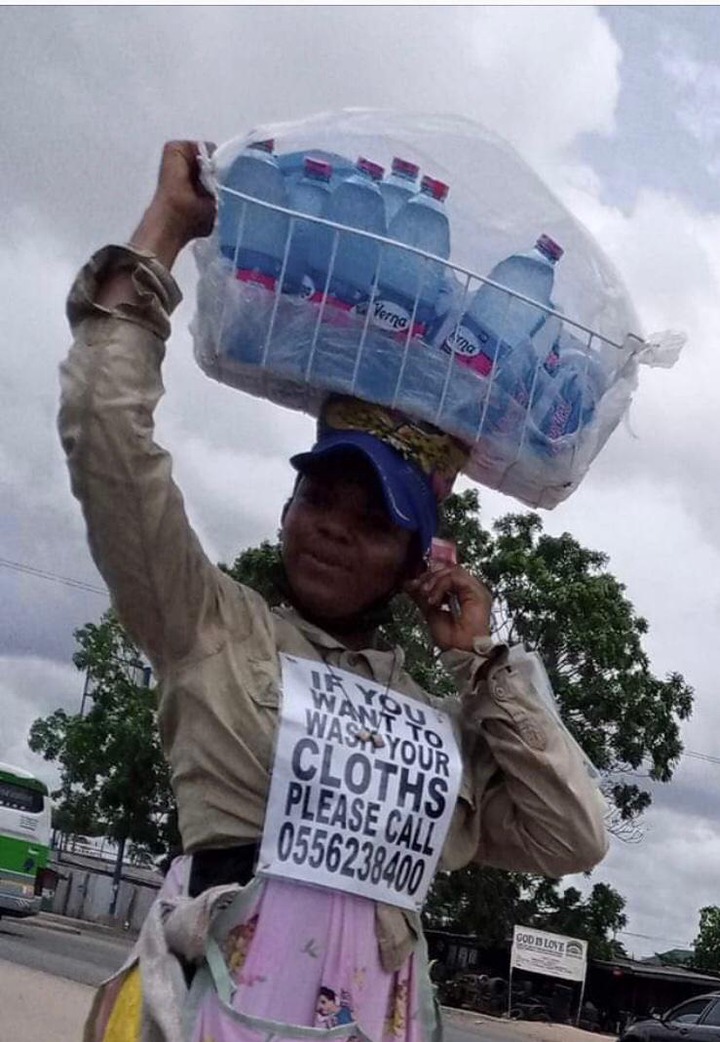 Content created and supplied by: SacramentoDistin (via Opera News )