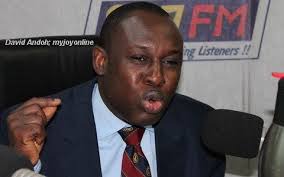 The vice president of the IMANI Centre For Policy And Education policy Think Tank, Kofi Bentil in an open chat with Ghanaian US based legal practitioner Professor Kwaku Asare popularly known as lead Azar said he cannot trust Godfred Yeboah Odame to execute the promises he made at the vetting.
Professor Kwaku Azar who in a post was eulogising Godfred Odame for his eloquent and loud promises and exhibited in-depth knowledge in the area of law was shocked to hear Godfred Odame may not exercute his promises just like every politician do.
"It's a good promise but I've learnt not to trust some of these promises" he said
 Prof Kweku Azar said if Odame become the attorney general, the country will accelerate at a top speed in development at the justiciary sector
"Finally, common sense has prevailed. My brother, Godfred Dame, has announced that there is a draft bill that will allow all law faculties to provide the "professional" law course" he said
Kwaku Azar believed Odame's vetting promises a lot and hope he will bring a lot of changes like transitional provision that allow LLB graduates who have been denied access to makola will also benefit whether privately, faculty or through online
However, Kofi Bentil thinks until lawyer Godfred Odame start exercuting some of his promises, he can not trust him because politicians do make good first impression with cunning words.
Content created and supplied by: Building_house (via Opera News )