Preceding a week ago's audit on the candidate's case by his board of legal advisors, the court appeal had started today with hot guards from Lawyer Tsatsu Tsikata paying little mind to the excusal of their survey a week ago.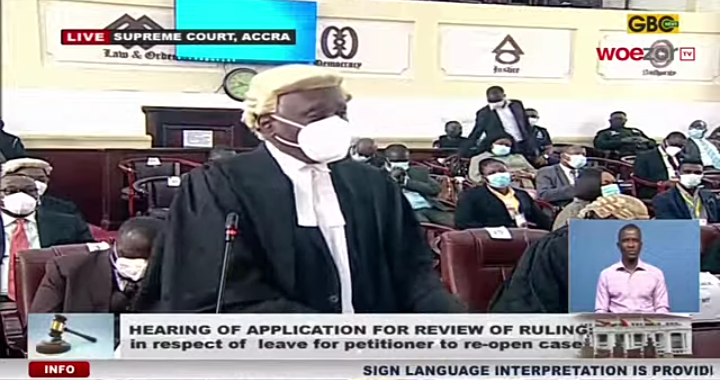 He said on 22nd February 2021 today of what one will call a miscarriage of justice or wrong delivery of Justice and the Supreme Court's decision as he expressed his dissatisfaction. These were his words: 
As our individual accommodation of Ground A shows that this decision was per incuriam of Section 72 of the proof Act 1975 and a miscarriage of Justice.
Your Lordships made no references in it administration at all yet, there was a reference to an English reading material which isn't restricting on your lordships. 
Area 72 of the proof demonstration is a sculpture of Ghana, this is the reason we say that the choice was per incuriam.
The specialists are sure about 2003 and 2004 where the Supreme Court of Ghana law reports that, the Lordships in the Supreme Court turned around a consistent choice when all was said and done given on the premise that they have neglected to consider the Arm Forces guidelines which was important for their obligation as the court of Ghana. 
The Lordships in republic against Tetteh switched their choice and rectified a mistake. Your Lordships have said that regardless of whether you didn't allude to a specific sculpture in your judgment, you have not appeared in any event of a miscarriage delivery of Justice. My Lordships, consciously, that is a crucial mistake. 
The Republic on Tetteh shows that, once there no reference or sculptures restricting your lordships, we don't have to show further that there's an unsuccessful delivery of Justice. Inability to apply a sculpture of Ghana is a sufficient unnatural cycle of justice.
On the off chance that it isn't an unnatural cycle of Justice delivery, then consciously, I don't have the foggiest idea what a miscarriage of Justice is.
Tsatsu Tsikata curls in insight again as he pokes holes in the decision of the Supreme Court alluding to a case in 2003 and 2004. 
Is Tsatsu Tsikata making a point at all or he's simply talking "language" in the same way as others put it? Why does he say the Supreme Court's ruling was a miscarriage or wrong delivery of justice?
Content created and supplied by: Kaks_Gym (via Opera News )