There have been internal wrangles within the New Patriotic Party (NPP) members on the account of who succeeds the President, Nana Addo Dankwa Akufo-Addo, in the 2024 general elections. 
According to media reports, specifically UTV Ghana, the Member of Parliament for Ketan constituency and former Minister of Railway Development, Honourable Joe Ghartey, has expressed his interest to lead NPP in 2024 general elections. 
However, the outspoken media personality and founder of The People's Project (TPP), Kwame Asare Obeng popularly known as A Plus, has chastised Honourable Joe Ghartey on his Facebook page today. 
A Plus asserted in his post that Honourable Joe Ghartey shouldn't bother himself to contest the presidential candidate election of NPP because he couldn't decongest prisons when he was the Attorney-General during Ex-President John Agyekum Kuffour's administration. 
He wrote that 
"You were the longest-serving Attorney-General and Minister of Justice in the Kufuor administration but you could not decongest prisons."
Moreover, Honorable Joe Ghartey didn't perform any significant task regarding the missing of Takoradi girls. 
He wrote that 
"You are currently MP for Essikado-Ketan constituency located in the Sekondi Takoradi Metropolitan Assembly where young girls went missing mysteriously. You were in this country when then CID boss told the whole of Ghana in a press conference that she and the government know where the girls are and that they are very safe, only to come back some few weeks later to tell us that the girls were dead. What have you done about it?"
Therefore, A Plus believes that Honorable Joe Ghartey doesn't deserve to lead NPP and Ghana.
"Today you want to be president so we should believe you. Nkwasiasɛm sei aaaa!!! I'm waiting for those your boys to reply with attacks so that we will see who has something to lose. 
Ɔmo diɛ sɛ dadambafoɔ.... Tweakei", he said. 
A Plus wrote this on his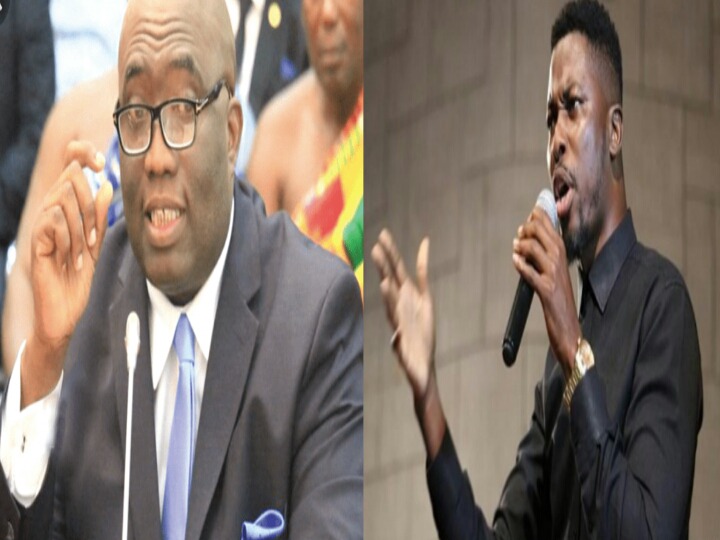 Facebook page today.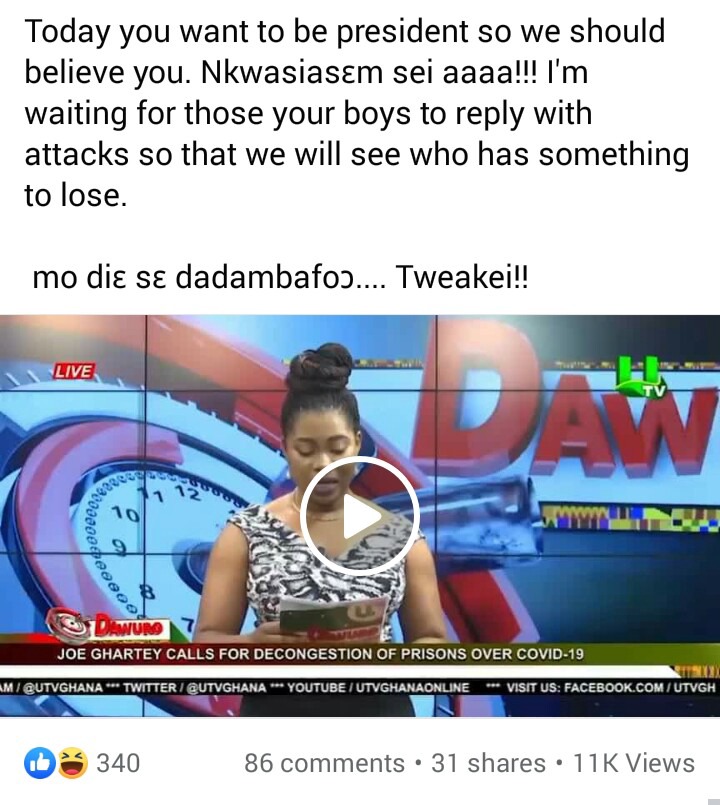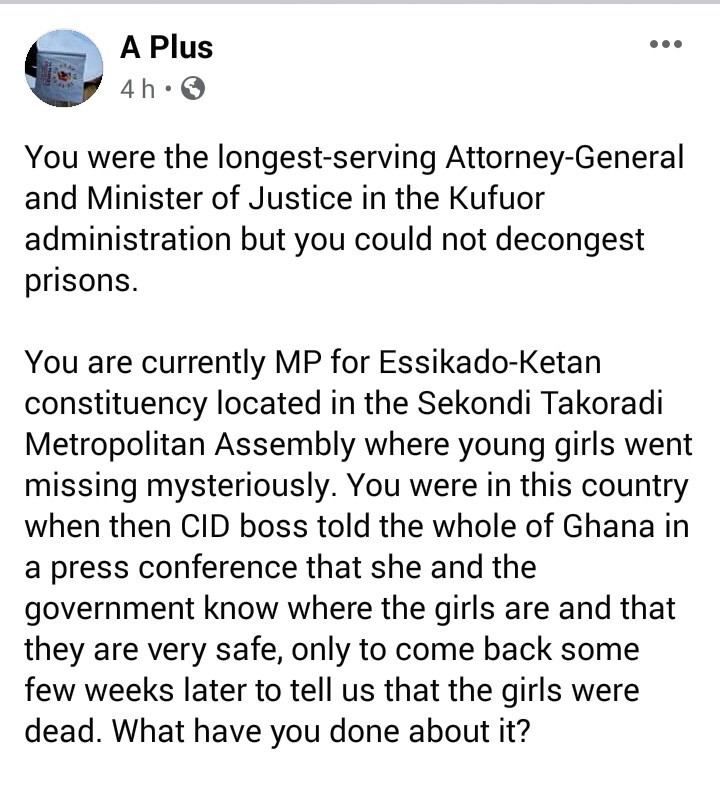 Content created and supplied by: News_365 (via Opera News )