"For this Homosexual thing, I Kwaku Bossam the Authentic man, Mr Kapolo, the person who initiated this homosexual thing should die in a car accident ", Kwaku Bossam in an interview pulled out his view in the homosexual thing in Ghana.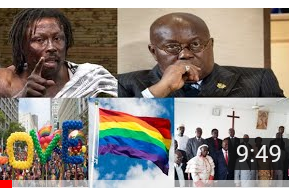 Kwaku Bossam said we were here in Ghana and they brought stones that they are going to build Christian Council Cathedral and bought stones from Israel for the Cathedral. And now if they want to build Cathedra then why are they following homosexual.
"I don't know the duty or responsibility of the Christian Council. What is the work of the Christian Council? Why won't they come in boldness and tell those who want to bring this homosexuality thing to Ghana to stop? Can't they tell the person to stop?", he asked.
Kwaku Bossam then pleaded and urge Ghanaians to fight against this LBGTQ group in Ghana and questions the pastors that why didn't they prophesy on the 31st night that Homosexual is coming.
He then claims that he(Kwaku Bossam ) said it in 2011 that homosexual will come in Ghana.
"What am saying is that there is no way we are going to accept this homosexuality in Ghana" Kwaku Bossam points out clearly.
Content created and supplied by: Glasss (via Opera News )