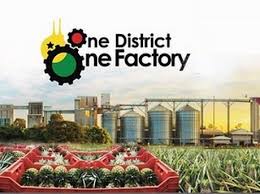 This article has been written in response to a publication on 'One District One Factory' on December 2020.
Projects are temporary endeavours performed to create unique products or services. Their conception, planning, implementation, monitoring and control, and closure are embedded in their lifecycle stages. Sustainability of projects can be attributed to their medium-term to long-term outcome and impacts on beneficiaries.
The IDIF concept was a project initiated by the government of the New Patriotic Party when it took power in 2017 under the leadership of His Excellency President Akuffo-Addo to accelerate industrialization of the local economy with the 'IDIF Agenda'.
With records of  estimated number of 76 factories completed so far and additional 107 earmarked for completion by second quarter in 2021, it is important that proactive measures are put in place to ensure not just the completion of these important national intervention projects, but also to ensure that their operationalization after completion provide the expected outcomes and impacts in a sustainable manner to accelerate income generation for the teaming unemployed youth across the length and breadth of Ghana.
It is also expected that through conscious efforts of good managers and other key stakeholders, the ID1F will contribute massively to 'Ghana's industrialization agenda' and economic prosperity.
To achieve massive gains from the 1D1F requires institutionalization of a 'culture of maintenance' and continuous efforts to track performance of these factories in terms of economic outputs and outcomes to the teaming beneficiary youth and other stakeholders.
Conscious efforts to monitor progress being made by way of economic contributions from the 1DIF companies, and subsequent feedbacks on impending dangers with propensity to render the project obsolete, can be early detected and corrected to guarantee maximum returns on tax payers' money.  
Content created and supplied by: lordstudio (via Opera News )