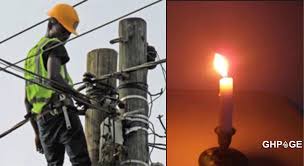 There is heightened fear among Ghanaians that the dreaded power outage known as Dumsor is lurking and would soon become a full-blown inevitability. The irritating phenomenon made its worst effect on Ghana and Ghanaians for almost four years in the recent past. It is something Ghanaians will not want to experience in their life again. 
The fear for Dumsor coming back is real. The recent power outages is across the country is given tangible credence to the rumour. 
The government is under intense pressure to come out and explain what is happening in the energy sector. From the producers of power, transmission, down to distribution, there has not been any explanation regarding what is happening. 
Forced to come out, today, the minister for energy hosted a press briefing. 
In response to the recent power outages being experienced in some parts of the country, the Minister for Energy, Dr. Matthew Opoku Prempeh together with a delegation from GRIDCo and ECG were present at today's presser to provide updates on the country's power situation. 
Eng. Mark Baah, Director of System Operations clarified that GRIDCo has no intention on embarking on a nationwide load-shedding programme. 
The programmed outages he explained, is occasioned by improvement works on some key projects to enhance power supply in the country.
Content created and supplied by: adizaawudu (via Opera News )