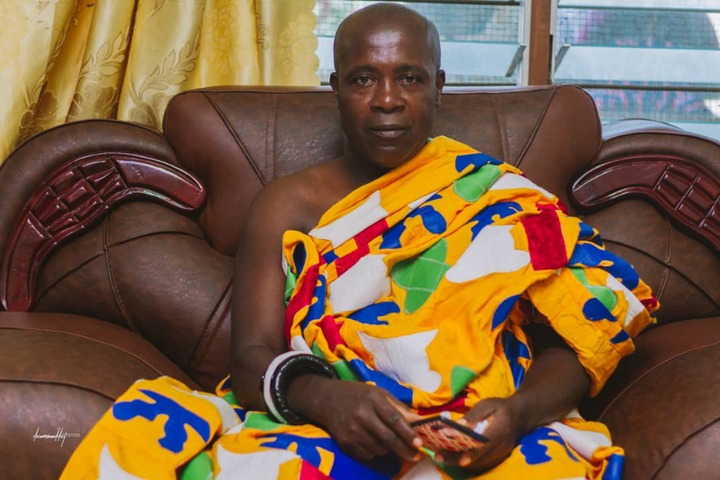 The Chief of Assin Andoe who doubles as the the Adontenhe of Assin Apimanim traditional area, Nana Kweku Atta Banafo III has expressed his appreciation to the Central Regional NPP Chairman, Mr Robert Kutin Junior for his humility and selfless leadership.
Nana Kweku Atta Banafo speaking in an interview with Nana Yaw Entsie (Prof Ike) on Nap Radio today said, the chiefs of Assin Apimanim wanted to visit the Central Regional NPP Chairman for an important discussion.
Upon deliberating how to reach him, the Chiefs became discourage as to whether the Regional Chairman will give us his time and a listening ear.
We called on the Regional Chairman and to our surprise, He decided to reach out to us in our Palace instead of allowing the Chiefs to travel to him far away in Accra for that discussion.
This he did, demonstrates a greatest height of respect and humility regardless of his position and standing in the society. He has changed every theory we held for people in political positions and that is a surprise to we the Chiefs and elders of Assin Apimanim.
We entreat the selected few who go about spreading falsehood and tarnishing his image as well to as matter of urgency to desist from those act and rather support his course for development in Central Region.
He advised that, young politicians with appointment in government should learn from the Central Regional Chairman of the New Patriotic Party.
We, the Nananom of Assin Apimanim traditional area urge the President of Ghana, His Excellency Nana Addo Dankwa Akufo-Addo to keep working with such respectful leaders to give his government a good name, Nana finally added.
Content created and supplied by: GH_InformationCenter (via Opera News )