Some Ghanaians following the ongoing election petition in the supreme court of Ghana have noted with concern, and have expressed same on social media, the unanimity with which all applications filed by the petitioner have been either dismissed, rejected or overruled.
What agitates their minds seems to be how all the 7 supreme court Justices have in all occasions arrived in their legal thoughts on the same line, without a single one of them dissenting.
This trend is unfortunately generating a nickname for the respected judges sitting on the case as some social media commentators have now mischievously tagged the bench as "unanimous FC"- meaning, they have formed a club of unanimous decision makers.
During the 2013 election petition, the trial saw various rulings on applications go either way, and in each moment, one could hear some Judges dissenting at various points.
The final verdict in 2013 itself recorded a 5-4 decision of the court, signifying a close contest.
In this ongoing election petition however, it has been a unanimous verdict in all motions that came before the court, and all went against the petitioner, hence the name.
A unanimous decision does not in itself mean that an injustice has been perpetrated, what it literally means is that, the decision, or agreement is one in which all the people involved agree.
But, the rationale behind the paneling of multiple judges to hear matters at that level is to bring in several ideologies and philosophies to bear on a case in order to have a balanced verdict as those matters at such level of the Supreme Court are usually of grave national interest.
These individuals who seem to be worried with the unanimous decisions of the court cannot fathom how in all the petitioner's applications, the Judges have the same line of thoughts.
Franklin Kudjo of Imani Africa is one individual two has been pushing this "unanimous Fc" tag by intermittently posting it on his Facebook wall.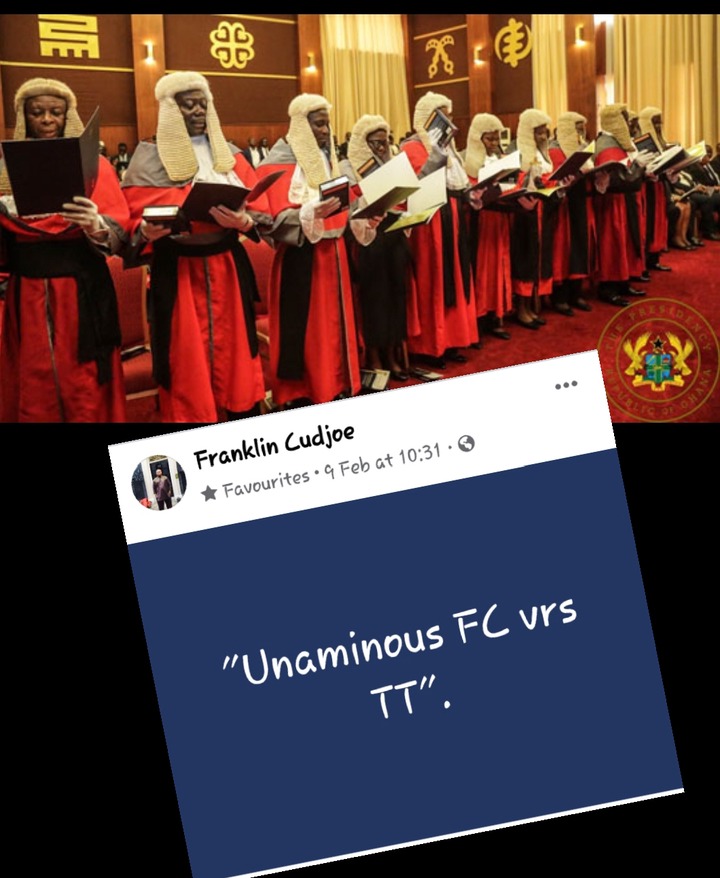 For some, the trend is probably that, the petitioner has a weak case and the Judges are simply following the logical line of things. All of them.
Whatever agitates your mind on the above observation, whether you belong to the "unanimous FC" or not, note that, the law is in the bosom of the Judges.
Say your mind devoid of scandalising the court, or else, you face contempt of court. 
Content created and supplied by: Rasgambo1 (via Opera News )