Profile of Oldest Doctor in Ghana who brought Matriculation
Dr. Emmanuel Evans-Anfom, 101, was one of the most respected medical practitioners in Ghana. He served as a medical doctor for over three decades. He passed away today, 7th of April 2021.
Profile of Dr. Emmanuel Evans Anfom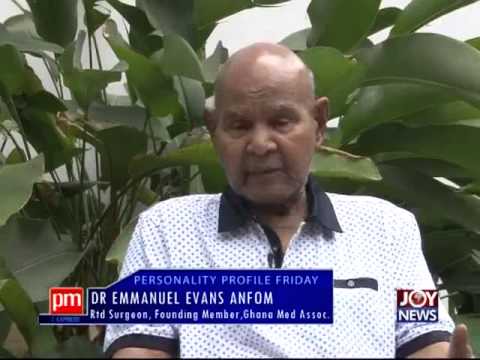 Born on October 7, 1919, Dr. Emmanuel Evans-Anfom is a member of the Ga-Dangme people of Accra. His journey into medicine began when he enrolled in the inter-preliminary medical course of Science at Achimota and received advanced training in physics, chemistry, botany and zoology, in January 1939.
At Achimota, he won a Gold Coast medical scholarship in 1941 to study medicine at the University of Edinburgh, graduating in 1947 and also studied in a postgraduate diploma course in tropical medicine, completing in 1950. As a Medical Professional, Evans-Anfom worked in various hospitals in the government medical system: Korle-Bu Teaching Hospital, Dunkwa-On-Offin Government Hospital, Tarkwa Government Hospital, the Kumasi Central Hospital, Tamale Government Hospital and Effia Nkwanta Hospital in Sekondi.
Dr. Emmanuel Evans-Anfom also did medical outreach in the Congo in the 1960s. In 1996, he was adjudged the "Alumnus of the Year" by his alma mater, the University of Edinburgh for "his major contribution to the development of medicine in the Congo and to medical education in Ghana."
He served as the Vice-Chancellor of KNUST from 1967 to 1973. He was the second VC of KNUST. At KNUST, Anfom first introduced the ceremony commonly known as "Matriculation" into the university entry ceremonies. He has chaired a myriad of committees, boards and missions, both locally and on the international scene in Africa, Europe and North America.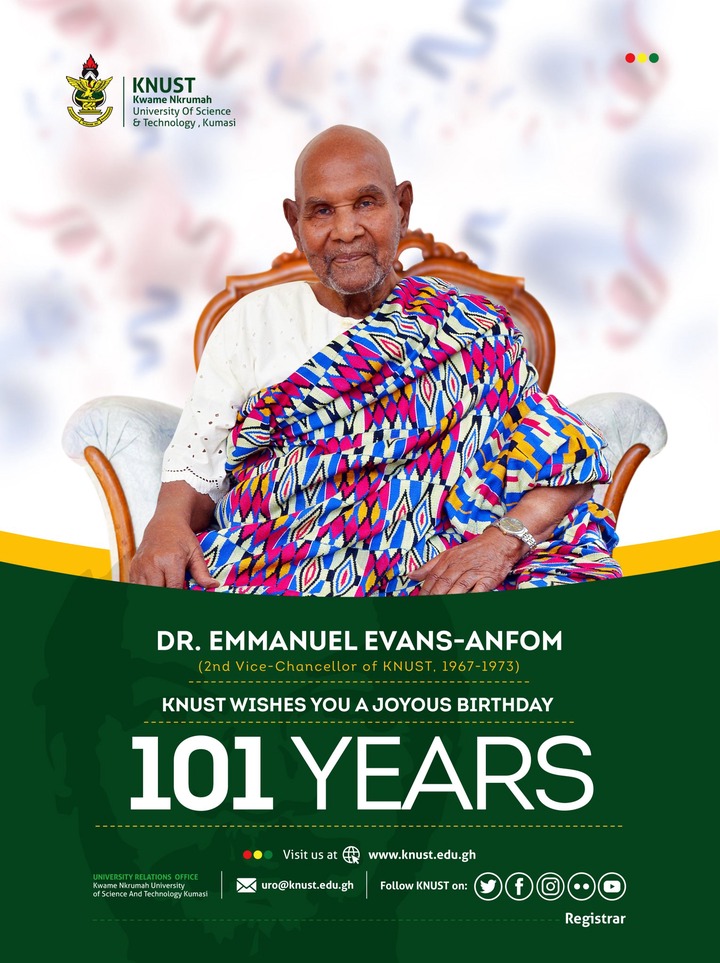 Dr. Emmanuel Evans-Anfom served as the Commissioner of Education under the military governments of Fred Akuffo of the Supreme Military Council and later, Jerry John Rawlings led Provisional National Defence Council in the late 1970s and early 1980s. He was a member of the Council of State in the Hilla Limann government from 1979 to 1981.
However, he has not been well in recent months, with his illness keeping him on his sick bed.
The president and first lady, therefore, deemed it fit to pay him a visit in January 2018 to find out how he was faring and to thank him for his service to the nation over the years.
"President Akufo-Addo meets Ghana's oldest medical practitioner," one of Dr. Evans-Anfom's sons, Nii Teiko Evans-Anfom, posted photos of the visit on his Facebook page while reveling in the moment.
The post was accompanied by the words: "when the president and first lady drop by to wish Ghana's oldest medical practitioner a happy New Year."
Many Ghanaians were pleased with President Akufo-Addo's gesture and praised him and his wife for taking such a step. Others also thanked the president for making time for a 'national treasure' like Evans-Anfom, while urging him to lead the way in recognizing and honoring national heroes.
Dr. Evans-Anfom was not only a medical practitioner but also the author of many books, which endeared him to many people around the world.
He was privileged to live and study abroad as a Doctor and later ended up in becoming an administrator at KUNST, where he performed creditably, Dr. Evans-Anfom told the students aiming to become medical professionals that, 'in the medical profession, you need to be careful. In addition, you should also be prepared to learn from seniors that you meet outside after completing school. Be humble to learn and not to try knowing everything,"
He entreated the medical students to aim at achieving credibility and integrity, and not to think about their pockets, adding that, with faith in God they could do the right things to move the nation forward. He also urged all medical professionals who were privileged to be sponsored with taxpayers money to be patriotic and help develop the country.
A life well lived. Rest well Doc.
Don't forget to share.
Leave a comment below
Content created and supplied by: THiNKGLoBaL (via Opera News )