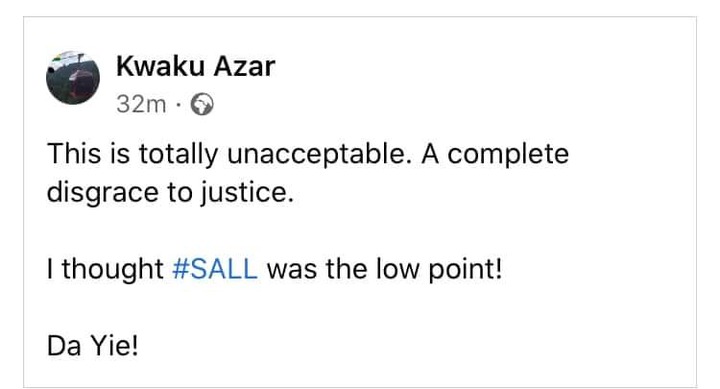 The maverick Ghanaian law professor, who many have labeled as a 'stubborn' litigant, and known for his appetite for commenting in any good governance concerns in Ghana, Professor Kwaku Asare (a.k.a Kwaku Azar) has taken to his Facebook page, stating what has left many jaws wide opened.
The comment was his direct reaction to what was going on this morning in the supreme court at the point where Counsel for the petitioner, Tsatsu Tsikata was on his feet having a back and forth banter with their Lordships, the Justices of the Supreme Court.
The court was dealing with the application of the 1st respondent (Electoral commission of Ghana-EC) and the 2nd respondent, Nana Addo Dankwa Akufo-Addo, where they both have applied not to submit witnesses for cross-examination.
After the respondents had submitted their oral arguments, it was the turn of Tsatsu Tsikata to respond. While the veteran was arguing his case, he got bombarded with interrogations from the bench and being questioned on any point he raises in his submissions.
Social media commentators soon went to work with people who are following proceedings stating their opinions. It was at this point the good professor dropped his comment.
He says; "This totally unacceptable. A complete disgrace to Justice".
The level of respect and reverence he commands on the social media space and his deep legal knowledge and reasoning makes his page a reference point on many legal and social issues of Ghana. Soon, his post attracted many readers and the interpretation of his post began.
Many believed he was disgusted with, first, the application of the respondents that seeks to make the EC chair evade cross-examination. Second, is the fact that, the bench seems to be arguing the respondents case for them.
On the second point, some legal brains have posited that, Judges are not supposed to argue on a point of law with the bar. The good professor, at that moments, probably thought that was not right, hence his post.
Meanwhile, the Court has given Thursday, the 11th of February as a judgement day for a reasoned decision on whether the EC chairperson should mount the witness box or not. 
Content created and supplied by: Rasgambo1 (via Opera News )