John's photos of riding bicycle together with his daughter has resurfaced again. The former president seems not to be just a statesman but also a family man who easily socializes with people. With these pictures, one can make correct predictions that riding is a hobby to the former president. That could even be one of the reasons he had a riding business being part of his 2020 campaign message. Well, he is not the only person that has the interest for riding hence his intention of trying to help other people to earn from doing their hobby. Though it received public agitations it is still viable and vital.
The pictures appear to put shock into as to why a former president who has so many cars and can just take any of them of his choice and go to wherever he was going to but decided to go through the pain of peddling a bicycle. Well some could interpret his action as a way the former president uses to exercise his body.
Well, whichever way it goes, Mahama can be described as a humble president who doesn't become arrogant for the status he has attained in life and can also be seen to be the people's person who likes to emulate what other citizens are going through day in day out in the country. No wonder he is currently working hard to secure victory in the supreme Court through justice so he would fulfill his dream of breaking the disparity gap among citizens. May God bless him and give him long life.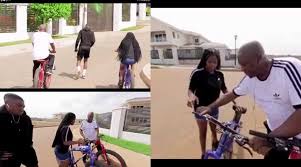 Content created and supplied by: Giinagh.com (via Opera News )