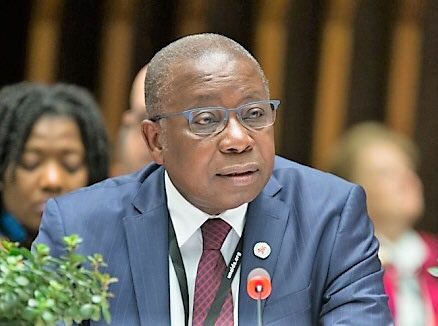 The vetting of the Minister-Designate for Health, Kwaku Agyeman Manu has been cited for contradicting the President of Ghana, H.E Nana Addo Dankwa Akufo-Addo over the cost of constructing the proposed District Hospitals. During his vetting today, Mr. Agyeman Manu disclosed that each of the 88 promised district hospitals will come at a cost of an average of $7 million.
Doing a fact-check of his claim, the Western Region Communications Officer for the National Democratic Congress (NDC), Richard Kirk Mensah disclosed that the minister-designate is factually incorrect. He mentioned that his claim contradicts what the President had noted for the cost of constructing the Shama District Hospital in the Western Region.
Richard Kirk-Mensah indicated that the cost proposed for the Shama District alone is €32 million an equivalent of $38,818,240.00 and thus could build four more hospitals given the cost of $7 million as mentioned by the minister-designate.
He wondered which of these accounts need to be taken seriously, and why the contradictions.
"Today the minister-designate for health is saying each of the 88 hospitals promised by the President is going to cost us $7m but the president told us the shama District hospital will cost €32m and sadly after the 19th August 2020 sod-cutting nothing has happened in the site, absolutely nothing has happened there, not even a fly has been sent to the. site. So who is lying to Ghanaians the minister or the President?" he noted on his Facebook handle.
In November 2020, Mr. Kirk-Mensah led a team of journalists on a fact-finding mission on projects that the Akufo Addo government had cut the sod for construction. The findings were very sad, as many of these projects including the Shama District Hospital have all not been initiated after the ceremonious sod-cutting in August 2020.
Given the stake and public interest in this matter, it would be appropriate for the government to issue a presser to clarify matters on this.
Content created and supplied by: Tinch (via Opera News )