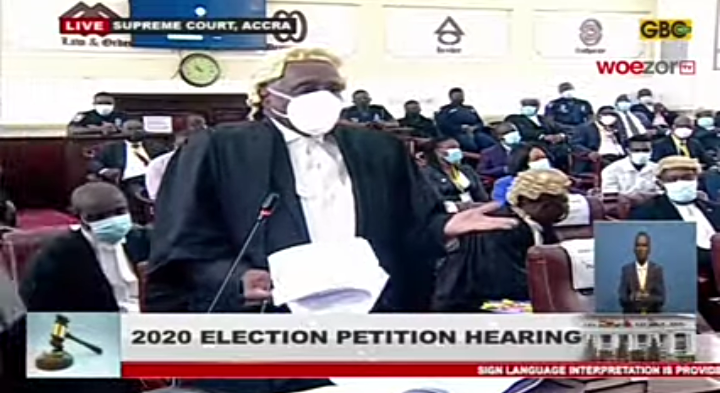 Still on the election petition as to the EC Chairperson mounting the box or not, Lawyer Tsatsu Tsikata said these words to the Supreme Court today, 15 February 2021.
He said:
I believe on the 9 of February when we closed our case with expectations of the chairperson coming to testify, the Supreme Court surprised with a turn of events asking us to come back again to address the Lordships fully on the legal issues that arose.
In the affidavit to the first Respondent in opposition, it is my respectful submission that there is unfortunate submission with regards to what the issues in this application are.
That confusion of us trying to appear and review against the ruling and so on is not the case. The lordships did not talk about vested rights but the most startling passage in this affidavit in opposition is the passage in which the Chairperson said something to do with disqualification.
My Lords, reading paragraph 24, "a subpoena is issued not to a party but a person. The first respondent as indicated is a party and disqualified and same as I."
My Lords, the rules about qualification to be a witness are provided for in section 58 of the evidence act and section 59. Reading the 58, aside as brought out by this decree, a person is competent to be a witness and no one is disqualified from testifying to any matter.
My Lords, am amazed to think of where she got her disqualification from testifying as a witness from. My Lord section 58 does not make that possible.
Reading section 59(1), a person is disqualified of being a witness if one is incapable of expressing himself so as to be understood through interpretation or directly. I don't think the chairperson is incapable of expressing herself so as to be understood.
Again, if one is incapable of understanding the duty of a witness to tell the truth. Aside this, anyone is welcome to do so.
Finally, 59(2), a child or a person of unsound mind is competent to be a witness unless he's disqualified by subsection one of this section. Even a child is competent to testify.
A person subpoenaed is punishable by committal.
These were the words of Lawyer Tsatsu Tsikata as he Intelligently dives into the law revealing Act and Sections on the competency and incompetency of being a witness till he says that, a person subpoenaed is Punishable by committal.
Content created and supplied by: OheneBoy (via Opera News )