Questioning at the Supreme Court today 8 February began with Lawyer Justice Amenuvor. This was what ensured between Robert Joseph Mettle Nunoo (Rojo) and Lawyer Justice before Lawyer Tsatsu Tsikata came in:
Question: Prior to you going to the stroongroom, did you familiarize with the rules governing the strongroom?
Rojo: My Lord, yes I did and I believe you are referring to CI-127.
Question: Yes, the collation results you describe as the strongroom are Presidential results of regional summary sheet, is that right?
Rojo: That is not right.
Question: Looking at the rules, what are you suppose to receive from the regions?
(Rojo tried reading from documents as Lawyer Justin Amenuvor halted him to first seek permission from the court, before doing so)
Rojo: You asked a previous question of which I answered that, the regional summary sheet should not just include the summary but also the 275 that make up that summary. You cant present the summary without its justification.
Question: On the 8 of December 2020, you held an interview on the EC's premises to Kwesi Papa Wilson of JoyFM. Do you recall? In that interview, among many others you said out that, the NDC has provision of 275 representatives across all constituencies in Ghana? Also, you said your party has employed 16 lawyers to all the 16 regions in Ghana, do you recall? 
Rojo: Yes I do recall.
Question: Did they perform their duties diligently? 
To the legal representatives of both Regional and 16 regions, yes, but are not the Returning officer of the EC.
Question: This means, they at every point in time as the results turned out, had duplicate copies, do you agree?
Rojo: The party's election Directorate that were assigned to gather the received duplicates and not the Representatives.
Question: So, this duplicates were received by agents of the petitioner at the regional and constituency level?
Rojo: If you are making references to pink sheets that were officially received at the close of the collation, that is right but other pink sheets appeared afterwards.
Question: In paragraph 11, you testified of making a mistake in the certification of the Ashanti Regional Summary sheet, is that correct?
Rojo: I indicated with specific reasons why this mistake came about in the Ashanti's Summary Sheets in the EC's strong room.
Question: When did you realize this?
(To which Rojo said that, he is not done talking for which Lawyer Justin Amenuvor asked him not to argue with him but answer questions straight. Lawyer Amenuvor further pressed on asking him when he realized he had made this monumental mistake.)
Rojo: Before the signing, I spoke to Dr. Serebour Quaicoe drawing his attention to observations I made on the summary sheet. He told me he's going to make phone calls on my concern to the regional levels of which he did.
Question: Remember when you denouncing what Roger Gyamfi had done? Victor Kojogah Adawudu spoke against what you were doing for they and the legal team told Roger Gyamfi its okay to sign that of Ashanti Region?
Rojo: I have no knowledge of it.
Question: You said you didn't want to look like a trouble maker, I will also certify some of the form. Do you recall that?
Rojo: I was cooperating as a representative and I had the mandate to be there to seek the party's interest and how the businesses were being conducted in the strong room.
Question: In paragraph 21, you made it clear that your colleagues and yourself were not there to put spokes in the field for constitutional proper declaration and the results to be made. On the very forms you certified, you said there were mistakes on some whereas some, you didn't want to put spokes. Which forms did you certify of satisfaction (spokes) and which forms did you certify of making a mistake?
From here, he (Robert Joseph Mettle Nunoo) asked to be given time to pick the summary sheets one by one. With this Tsatsu Tsikata came in to say, "You are Not allowed To Refer to documents".
He said this pointing out that, if one wants to refer to documents, one must ask stating specific documents if to refresh one's memory, they (the lawyers) will put it before the Court.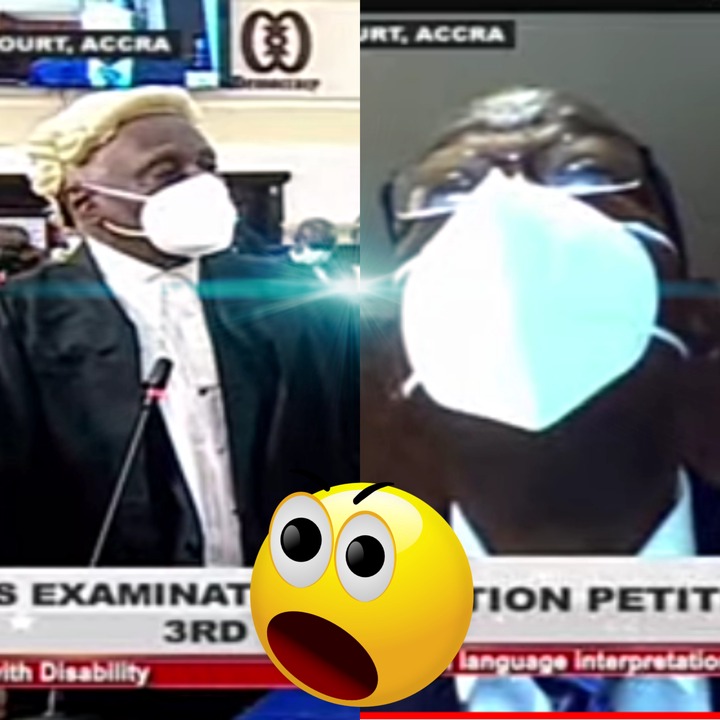 This statement, he referred to witnesses as Rojo testified as a witness.
To this, he asked, "What documents were you seeking to refer to?"
Is Rojo already in hot waters? 
Content created and supplied by: Blessed_Soul (via Opera News )