Gabby Otchere-Darko has finally joined the LGBTQ issue that has been going on in the country. This issue started when the European Union in Ghana established an office for LGBTQ rights in the community.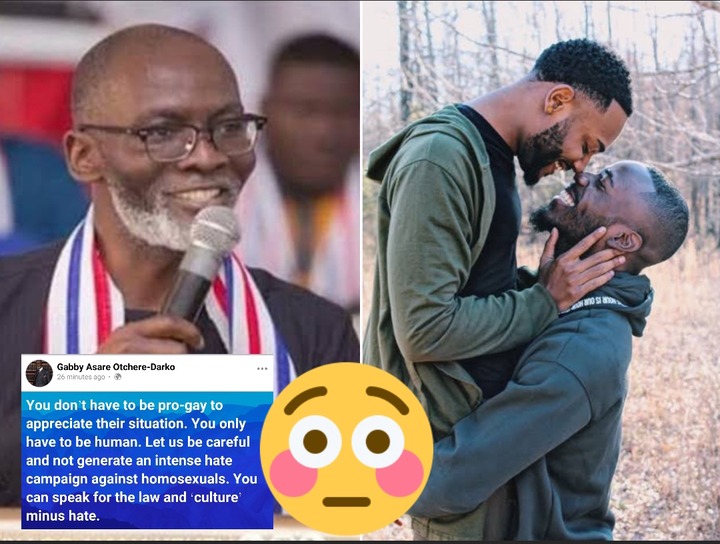 Photo used for illustrative purpose
This raised a lot of eyebrows as people went on social media to condemn the act. Many people held different opinions about the issue. Some even say homosexuals and lesbians are evil and it's against our moral standards as Christians and Africans also.
Gabby Otchere Darko who is a staunch New Patriotic Party supporter and a nephew of the incumbent president Nana Addo Dankwa Akufo Addo, has said that it's not until you become a gay then you start appreciating their situation.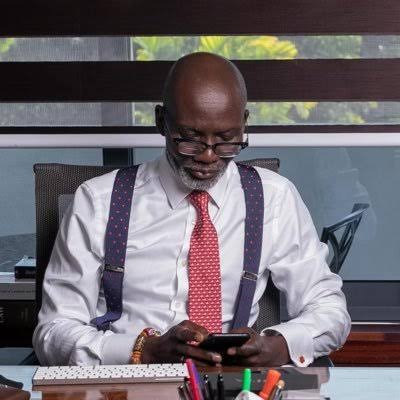 He said one only needs to be a human to do that. This his Statement is very true and correct, most times we easily call people names and throw shades at them for who they are, fat, short, handicapped, homosexual, lesbians, too dark etc. Without knowing what we are doing to these people.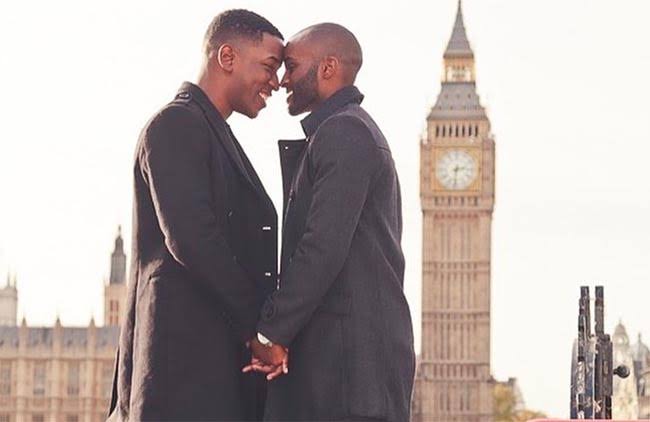 Photo used for illustrative purpose
Gabby Otchere Darko in his statement has made it clear, that it takes one who is a human to be able to understand the situation and act maturely towards it.
He even went on to plead that everyone should be careful, so that we don't start a chaotic hate campaign against homosexuals in the country which will not speak well of our nation.
"𝘠𝘰𝘶 𝘥𝘰𝘯'𝘵 𝘩𝘢𝘷𝘦 𝘵𝘰 𝘣𝘦 𝘱𝘳𝘰-𝘨𝘢𝘺 𝘵𝘰 𝘢𝘱𝘱𝘳𝘦𝘤𝘪𝘢𝘵𝘦 𝘵𝘩𝘦𝘪𝘳 𝘴𝘪𝘵𝘶𝘢𝘵𝘪𝘰𝘯. 𝘠𝘰𝘶 𝘰𝘯𝘭𝘺 𝘩𝘢𝘷𝘦 𝘵𝘰 𝘣𝘦 𝘩𝘶𝘮𝘢𝘯. 𝘓𝘦𝘵 𝘶𝘴 𝘣𝘦 𝘤𝘢𝘳𝘦𝘧𝘶𝘭 𝘢𝘯𝘥 𝘯𝘰𝘵 𝘨𝘦𝘯𝘦𝘳𝘢𝘵𝘦 𝘢𝘯 𝘪𝘯𝘵𝘦𝘯𝘴𝘦 𝘩𝘢𝘵𝘦 𝘤𝘢𝘮𝘱𝘢𝘪𝘨𝘯 𝘢𝘨𝘢𝘪𝘯𝘴𝘵 𝘩𝘰𝘮𝘰𝘴𝘦𝘹𝘶𝘢𝘭𝘴. 𝘠𝘰𝘶 𝘤𝘢𝘯 𝘴𝘱𝘦𝘢𝘬 𝘧𝘰𝘳 𝘵𝘩𝘦 𝘭𝘢𝘸 𝘢𝘯𝘥 𝘤𝘶𝘭𝘵𝘶𝘳𝘦 𝘮𝘪𝘯𝘶𝘴 𝘩𝘢𝘵𝘦."– Gabby Otchere Darko.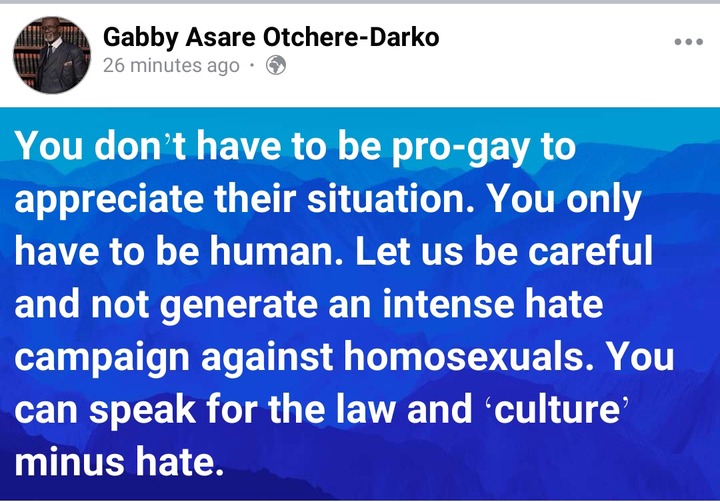 Gabby Otchere Darko has made common sense in his statement, and it's left for others to follow and do same, show love unconditionally and live at peace with each other despite sexual orientation.
Content created and supplied by: BallpointMedia (via Opera News )