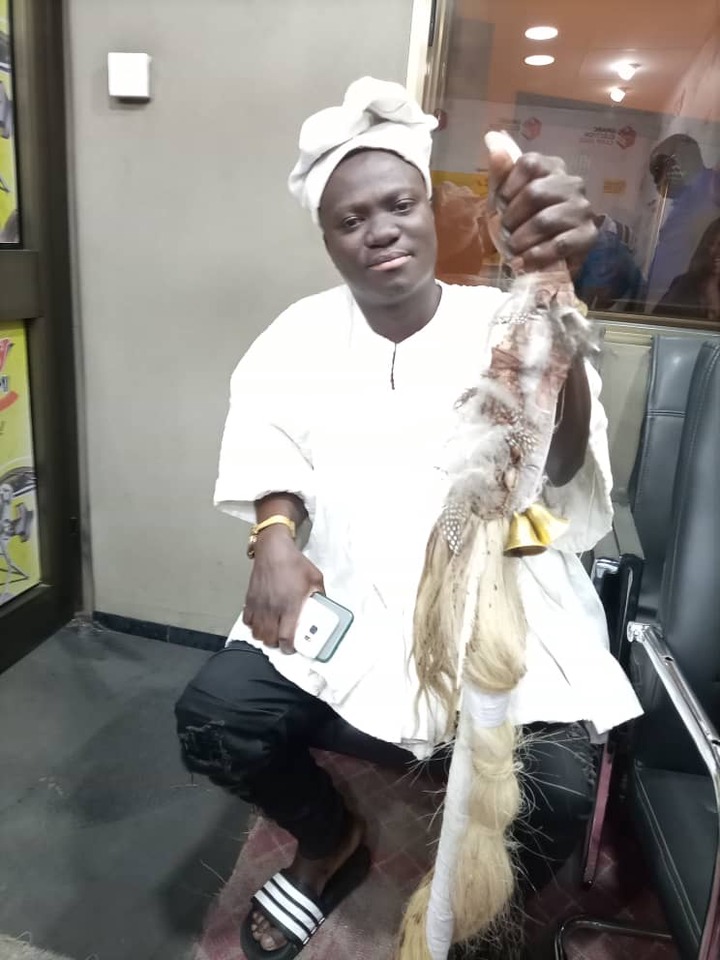 Nana Kwaku Peprah also known as Quotation Master or Ayaaba or Lucifer who is an African traditional spiritualist, practitioner and advocate, has given reasons why he thinks no African leader would be able muster the courage to resist LGBTIQA+ rights. 
"No African president can stand up against gays and lesbians". "If any president thinks he is bold and disagrees, he should come for a debate and let me show him something small. He who tries shall be killed" he claimed.
When his attention was drawn to the fact that, President Nana Addo-Danquah Akufo-Addo had spoken about it, Ayaaba remarked "When Covid broke out, did our president speak, he did. But, haven't we accepted the vaccines? We have. In the same way we shall accept and applaud gays and lesbians in our country."
According to him, we cannot fight the Whites and their decisions because they have conquered us especially our spirituality and they have destroyed our spiritual backbone which served as a pillar and support for us. 
He affirmed that," There is no way we can prevent gayism in our land so we should be ready. We shall accept it". But added, "I don't support it, but that is what would happen so I don't want to lie about it" he stated.
"Once your spirituality is broken by someone else, it is very difficult to resist the things that person pushes down your throat" he averred. 
In responding to whether Ghana would accept homosexuals or not, he answered that "Ghana might be the first country to accept gays and lesbian rights before any other country in Africa". Which country has accepted the Covid vaccines first, is it not Ghana" he quizzed.
Ayaaba further expounded that, Ghana, is the first country to accept democracy, and the Covid-19 vaccines and so people can make the deductions for themselves. 
He continued that, President Akufo-Addo was praised for his covid measures, but we should all appreciate the fact that, Whites praise other people who do their bidding for something they intend to get not for praising sake.
According to him, these same white people took us through slavery and have ruled over the black race or the African for all these years, so what makes other people think that these same persons like us, he asked.
Quotation Master spoke to Rev. Nyansa Boakwa of 'Nsem Pii' fame on Happy FM monitored on Happy TV on YouTube.
Reverend Nyansa Boakwa read a message to Ayaaba that, "We've accepted their God, we've accepted their religion, we've accepted their names, we've accepted their food, we've accepted their culture, we've accepted their dressing, we've accepted their everything. Can we really reject this one"? To which Ayaaba responded, why do we think we can? "There is no way we can stop them".
"We shall accept it and go to church and clap for it in Ghana". He said in reference to LGBTIQA+ rights.
He further revealed that, the country Ghana had already accepted LGBTIQA rights but he is unable to make it empathic because, when taken to court he might not be able to provide strict proof. But, he knows, one day, one day, Ghana would accept it and people would come to understand him.
According to him, the state Ghana had already accepted gays but, it was left for a president who can be bold and openly declare that, their rights must be recognised. 
But, Quotation Master added that, the time shall soon come, because in some few years to come, not in Nana Akufo-Addo's term but, in the next term of the next president, we shall have a leader who doesn't care a hoot about anything and shall make the country accept the rights of LGBTIQA+ persons. 
In concluding, he averred that until we begin to stop being too much money conscious and are willing to do something for posterity to enjoy, these things would continue to bedevil us.
He added, the Blackman is willing to offer anything just because of money. "These are things we have been deceived with for a very long time and until we sit down, reassess our behaviours and be prepared to build our nation based on our cultural ethos, things shall continue to be as it is. 
Content created and supplied by: DCKWAMEKWAKYE (via Opera News )