The Energy Minister Designate for President Nana Addo Dankwa Akufo-Addo second term administration, Dr. Mathew Opoku Prempeh has taken unto his official Facebook account after meeting the Vetting Committee to give further clarifications as to why his immediate past office (Education Ministry) procured mathematical set and calculator at a cost of GHS 75 each.
The Former Education Minister gave Ghanaians 9 facts why they purchased the examination tools at that cost but his facts did not convinced Ghanaians enough to free himself from such criticism. According to Dr. Mathew Opoku Prempeh, on 6th December 2018, Transnational Ltd wrote to his office introducing a mathematical and a non-programmable scientific calculator combined from Bluegrass Limited.
He then wrote to Ghana Education Service on this issue and GES subsequently wrote to WAEC for further clarification. On 5th February 2019, GES had a feedback from WAEC stating categorically that issue of examination malpractice had been discussed extensively in a retreat organized by the council in 2018 in Lagos, Nigeria. It was agreed that the council should formulate a policy requiring students to use mathematical sets approved by WAEC alone.
Dr. Mathew Opoku said that, WAEC assessed the proposal by GES and gave them feedback approving the mathematical sets and calculators of Cornfill Limited on 5th February 2019 of which GES later notified a copy of that letter to his office on 12th February 2019. So on 12th March 2019, he wrote to the PPA for approval to procure the items by sole sourcing due to urgency of having instruments for the 2020 WASSCE.
In accordance with the Public Procurement Act, at a price of GHC75 per item, a total mathematical sets and calculator of 853,009 pieces were acquired amounting to GHC63,975,675 but what really angered Ghanaians on Facebook is that, Dr. Mathew Opoku Prempeh said that due to Covid-19, the delivery of the items were delayed and 2020 WASSCE candidates for whom the mathematical sets were in demand did not benefit but candidates for 2021 and beyond will benefit.
He added that, they have received the first batch of the instruments and payment has been made waiting for the remainder to conclude the deal. Meanwhile, National Intelligence Bureau (NIB) have the CEO of Bluegrass Ltd in their custody and Dr. Mathew Opoku Prempeh said that, he does know the CEO of Bluegrass Limited in person until his vetting on Friday 12th February 2021 and was not aware of his earlier arrest by NIB.
Ghanaians on Facebook were not satisfied by this explanation given by the Minister Designate and asked why he should purchase a common mathematical sets and a calculator at GHC 75. Some Ghanaians argued that even a 991-Casio calculator cost GHC 40 and a mathematical set cost GHC5 in our market, making GHC 45 each.
And since he was even purchasing in bulk, a bargaining power from a non-corruptible company could have given each for GHC 35 saving the country millions of Ghana cedis. Some said that acquiring mathematical sets and calculators for students at that crucial time of the pandemic was necessary, a developing country like Ghana shouldn't been taking this decision whiles we have schools under trees and urgent rural problems to solve.
Check out some of their comments against the Minister's explanation below: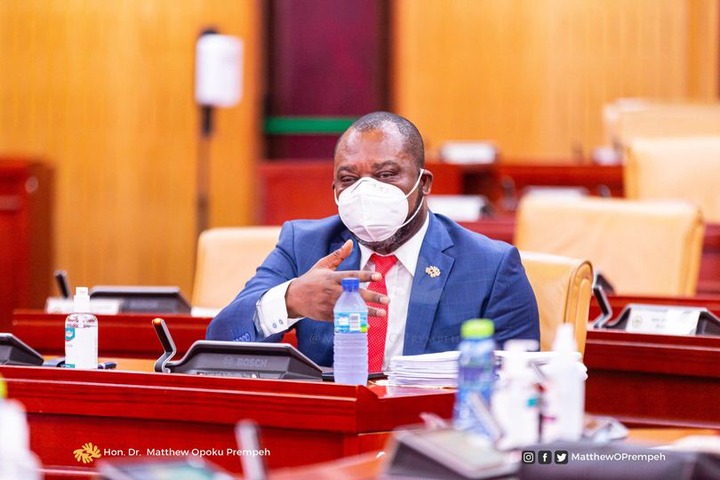 Content created and supplied by: Ferdinandnews (via Opera News )