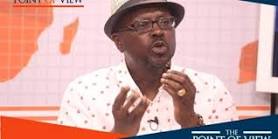 US based Ghanaian legal practitioner professor Kwaku Asare popularly known as Kweku Azar has called for the dissolution of some top five institutions in the country including Board of Audit Service, General Lawlessness council etc.
The Ghanaian law professor who is a staunch human rights activist argued that some of these institutions exist to spend the government's money for nothing.
He said the Board of Audit Service have failed woefully to deliver the mandate given to them by the president. He argued that the Board of Audit Service and their actions have ridiculed Akufo Addo's government big time and will be dissolved at once if they have the chance.
He also insisted that the General Lawlessness council should be dissolved immediately because they don't perform any better function in the government.
Professor Kwaku Azar also pointed that the NCCA be dissolved as they have failed to deliver by allowing inappropriate content to be delivered to Ghanaian kids
Five institutions that GOGO will dissolve on day 1.
1. Board of Audit Service 
2. General Lawlessness Council
3. Ghana School of Lawlessness 
4. NACCA
5. Council of State
#SALL is the cardinal sin of the 8th Parliament. 
Content created and supplied by: Building_house (via Opera News )