"On Tuesday, 23rd March 2021, I attended the 11th Quadrennial Delegates Congress of the Trades Union Congress, held at the GNAT Hall in Ejisu, Kumasi.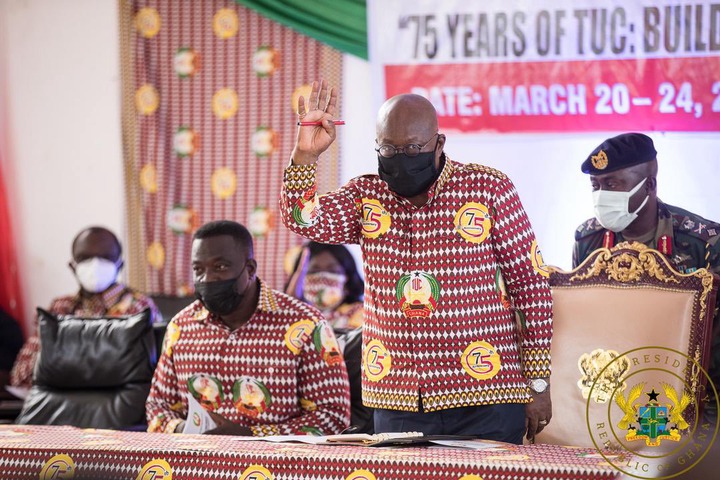 "In my remarks to the Congress, I paid tribute to Organised Labour and its leadership for their invaluable contribution in helping keep our country on its two feet in these times of COVID-19. Their co-operation has been a mark of patriotism, and I applauded them for that," Prez. Akufo-Addo tweeted.
This spark a lot of comments from many Ghanaians who expressed their frustrations and other applauding him for his awesome administration.
There was one particular comment that got me worried, in fact I felt traumatized. This guy said , with no sense of remorse, that he insulted the President some other time and his account got blocked. 
"The last time I insulted u they suspended my account so I won't insult u today again.wai"
Please am definitely not a party fan but somethings are not meant to be joked with, despite the fact that we enjoy Democracy, give us no room to be disobedient to our leaders.
 In fact, personally I didn't like that at all and am worried for that person, because this attitude incurs nothing but curses, from God.
 We must learn to obey, no matter who you may be, as long as the person is your leader, whether you like him or not. Besides the President is older than you, and at the same time your leader, "Come on" you can't be such sarcastic.
  I believe where ever he is, he "must" apologize sincerely to the President openly.
Here are some comments following President Akufo-Addo's Tweet.
1. "I am very disappointed in you Mr.President
How can you increase taxes but said you will not increase salary . I am done voting for NPP"
2. "Nana, may Allah continue to guide you in wisdom to serve this country wholeheartedly. I know you're very passionate about serving your people. It is rather unfortunate that some unscrupulous people in your government are making your work difficult for you."
3. "The last time I insulted u they suspended my account so I won't insult u today again.wai"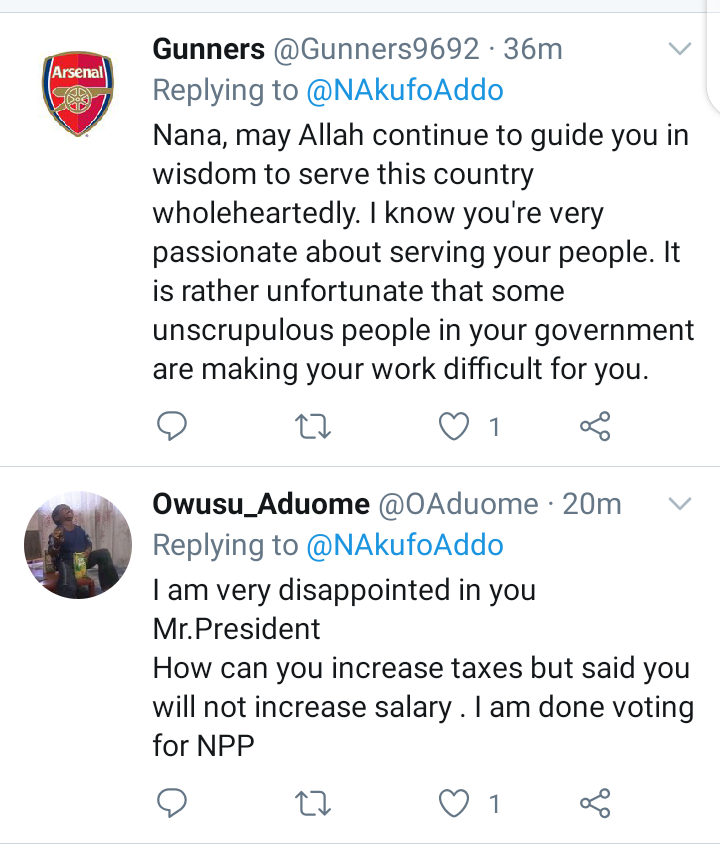 4. "The taxes are too much! Kindly abolish some of them Prezoo. You said you were going to "move from taxation to production". What's changed now? Hmmm Ghanaian leaders and their deceptions"
5. "Achimota ein case no you say wassop"
6. "Congratz Mr. President, we are so proud to have you as listening father for our dear nation Ghana 🇬🇭"
Content created and supplied by: Ghana_News_360 (via Opera News )