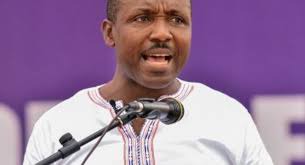 In his support for his decision to snatch ballot papers, Carlos Ahenkorah, the Member of Parliament for Tema West blamed the New Patriotic Party for not demonstrating administration in the appointment of the Speaker of the eighth parliament. 
Carlos Ahenkorah said on Okay FM that while the General Secretary of the National Democratic Congress, Asiedu Nketia utilized gesture based communication to direct to his MPs how they should act on the evening, the NPP General Secretary was mysteriously absent. 
He said that the explanation he snatched the ballot papers and purportedly chewed a few was to compel a re-run of the surveys yet his chiefs bombed him by consenting to the NDC's interest for Alban Bagbin to be pronounced the champ. 
John Boadu who was available in Parliament on the night has reacted to these cases via Carlos Ahenkorah. 
As per Boadu, he released his obligations true to form and was in consistent correspondence with the administration of the NPP MPs to guarantee that the gathering's destinations in the surveys were accomplished. 
"Masa he should stop saying that.. I went inside the chamber yet the NDC MPs protested. We managed the administration of NPPs MPs. On the off chance that I sat at the top to do gesture based communication, what might occur. I was at the entryway, he can confirm from Afenyo-Markin and the administration and he will understand what we did. In any event, when they wrapped up tallying the votes and the episode occurred, I needed to go to the hall. I was there all through, from 10 am to 10pm". 
John Boadu said that he can't be accused for the choice by some NPP MPs to cast a ballot against the gathering' decision. 
He told Ahenkorah on Okay FM that as General Secretary, he had no task to carry out in choosing who the gathering's MPs planned to decide in favor of. 
"As a MP, notwithstanding issues, is it the General Secretary's obligation to show you where you should cast a ballot. You are 137 in addition to an autonomous up-and-comer making 138, so if everybody decided in favor of our up-and-comer, would there be an issue. Do you need a General Secretary do gesture based communication before you vote? What are we saying? What did he need me to do. Advise him to pick voting form papers? We should quit saying that", he said.
Content created and supplied by: Infohub.com (via Opera News )