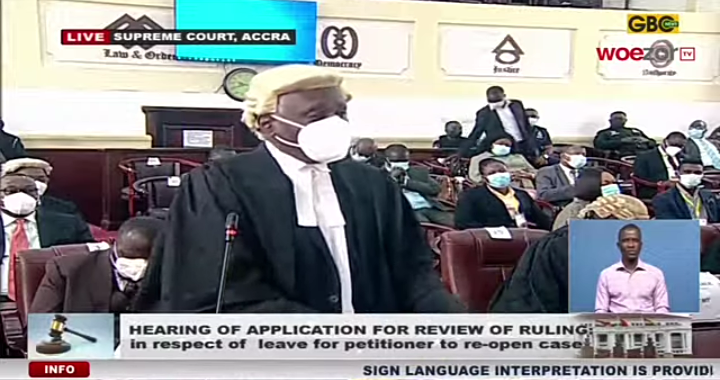 Mr. Amenuvor asked the Supreme Court to dealt with the case easily making references to Hosea in the bible. He was then asked this question by the Supreme Court saying:
Mr. Amenuvor, you have not referenced us to the gospel of Hosea, as he came with in with an explanation saying:
My Lords, my point I want to make on that is, God is a God of conscience and does not use court processes to elicit conscience. You donot bring God to the courtroom to now claim that your review should be granted.
Lawyer Akoto Ampaw now rose to speak on the previous ruling of the court of which Lawyer Tsatsu Tsikata said it was a fundamental error and a miscarriage of justice,
This was his response to Tsatsu Tsikata case on the court not being fair on it ruling:
Order 38 Rule 3E5 is part of the laws of Ghana. It is because of this specific provision in Section 36 that, the court could then look at Order 38 Rule 3E 5 and rely upon it in making it ruling. My lords respectfully, I think it is misconceived to suggest that in doing so, the court has committed a fundamental error by allowing a subsidiary legislature to champ a substantive Act of Parliament.
My Lords, addressing 459 of section 58, section 58 of act 459 is completely irrelevant to the matters before the court because the subject matter in the review application before this court relates to the court's decision not to reopen the case.
Section 58 pre-supposes that, the party that is applying to summon another has not closed his case. My Lords, this is obvious common sense, this has been consistently cited out of context. Perhaps, we should release those who don't know the law.
It is our respectful submission in reference to the Court's act in this situation is totally misconceived and should never have been made.
These were the words of Tsatsu Tsikata as he Educates Tsatsu Tsikata on the law on the Supreme Court's ruling and praises the Supreme Court on it ruling.
Content created and supplied by: Kaks_Gym (via Opera News )