Before you proceed with this article kindly follow me by clicking on the follow option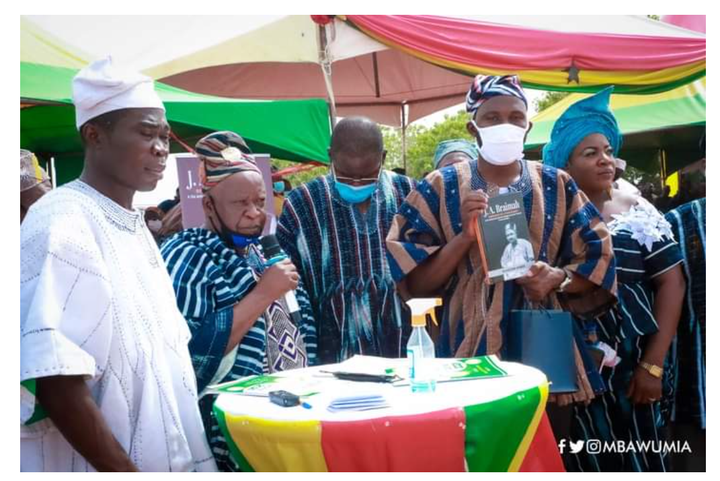 On Saturday, 3rd April, 2021, Mr Alhassan Ahmed the author of a book titled, J.A Braimah: "Biography of a trailblazer" presented copies to the family of the late Gonja King (J.A Braimah), at the durbar of the 45th annual Gonjaland Youth Association in Bole, through the family head of J.A Braimah, Bimbaliwura Hamid Braimah Baba and the Gonja traditional council, through the paramount chief of the Kpembe traditional area Banbanga Ndefuso (IV) and the vice president of the Gonja kingdom Abdullai Jinapor (II).
After the book presentation was done, Nkilgi FM of Bole interviewed the author, Mr Alhassan Ahmed where he explained how he came by the book. He said, "Yagbonwura Timu (I) (J.A Braimah) was a revered Paramount Chief of Kpembe and later Yagbonwura (King of the Gonja Kingdom), he is not just any ordinary person…therefore, it is out of respect to the family and the community that made J.A Braimah, that before the book gets to the market, his family and the Gonja Traditional Council receive copies."
He continued; "this programme is not a book launch per say but a book presentation. The main book launch will come off in Accra on a date that is yet to be decided."
At the presentation grounds to receive the copies given to the family was the managing director of Ghana water company limited, Dr Clifford Abdullah Braimah who happened to be a brother to J.A Braimah to accompany Bimbaliwura Hamid Braimah Baba.
The author therefore used the opportunity to express his gratitude to the president and PRO of the Gonjaland Youth Association Mr Lawyer Alhaji Mohammed Amin and Mufti Borejinkpr respectively for the great opportunity given to him.
In attendance at the durbar was Dr. Bawumia, representing his excellency the president of the republic of Ghana, Nana Akuffo Addo.
Thank you for reading my article just complete this by liking and commenting on it below
Content created and supplied by: jjlobationisamaestro (via Opera News )