Time they say is money, and money almost literally makes the world go round. So it's safe to say money is one of the most essential commodities of life. So if I wake up early morning to go to work and have to spend hours on end in traffic. It drastically reduces the number of hours I can be productive in the day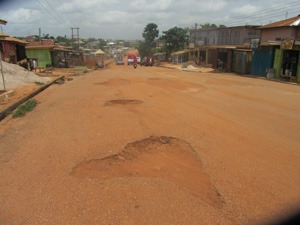 Take a critical look at the number of traffic jams you will see on our rounds, at every turn. It's like the relevant bodies in charge of our road networks are oblivious to the situation. Looking at the old road networks built by our first president Dr. Kwame Nkrumah, it was built with a foresight. Because it's very rare to have traffic on say the motorway, but look at some of the major roads linking up some of the upcoming communities to major centers.
These roads seem to have been built with little or no room for expansion taking into consideration the future possibility of an increase number of cars on the same road, which will lead to traffic or what we normally call "Go Slow". I spoke to a lot of people stuck in traffic at various points. 
"I am going to work at ring road. I left home at 6am and as you can see, it's now 7am and I am now stuck here at Palace roundabout.
-A Commuter on the Spintex Road"
"I am seriously confused as to what really causes the traffic on this road. But nonetheless, it looks nearly impossible to rectify this issue, because there is no space on the shoulders of the road to aid in future road expansions. Save the spending of citizen's money to settle owners of lands by roadside to clear them for road expansion.
-Louisa, a commuter on the Spintex road".
I had the opportunity of speaking to several other commuters of various traffic prone roads. And you could tell that the causes and the actual reasons on the grounds for the traffic on our roads are virtually the same. Also coupled with the poor nature of some of our roads. One is left with a lot of worries, what is really causing all this issues. Is it just down to sheer negligence or is it due to contractors and authorities cutting corners. But whatever be the case, the big question remains; What are the ministries in charge of the construction and siting of these roads, hoping or going to do about the situation? That is the ultimate concern for the ordinary Ghanaian, is not whether a minister cuts corners or not, or even if a contractor cuts corners or not. So long as the work is done well enough so that life is made easier and much safer on our roads. We need to build or construct our roads, with a foresight for the future usage increase of the said road. Because we looking at the Tema Motorway, hardly do you see crater like potholes on them. More so it was built such that at any point if we want to expand the road, we can because provisions were made for that.
You see if these roads are built well, and with proper planning. Potholes will not be an issue, in that potholes also play a contributing factor to some of the traffic jams we see on our roads. Imagine a pothole so large its almost takes on side of the road. Drivers will either slow down in other to pass in it, or try to pass the incoming lane to avoid it. This will either cause the incoming car to slow down for them to pass, or worst cause a head on collision.
If our road networks are constructed with more lanes and more diversions it eases the pressure on certain roads as well. Which in the long term prevent some of the wear and tire of the said roads which could lead to the development of cracks and damages to the roads eventually lead to the creation of potholes. More so the more road networks the lesser the likelihood of traffic jam development. Because drivers will have alternate routes to their destinations, reducing the number of vehicles on particular roads, hence the elimination of traffic jam on said routes.
I plead with the relevant bodies to take notice for both future road constructions and to do something about the road networks in Ghana. The promises are well and good enough, but promises without actual works will eventually be to their own detriment and more problems for future generations to deal with. Aside the fact that some of the roads are so traffic prone because of the lack of lanes and alternative routes. Poor road constructions and general road networking is causing so much financial loss to the state. It's safe to say road networks are one of the leading sources of a host of problems for the state in areas of agriculture and health access. But that's another story to be told later.
Felix Kwasi Annan
Writer.
Content created and supplied by: Felix_Kwasi_Annan (via Opera News )