Not long ago, the President of The United States of America, Joe Biden, issued a memorandum aimed at increasing the protection of the right of lesbian, gay, bisexual and queer and intersex (LGBTQI) people across the world through the use of financial sanctions. According to Joe Biden, everyone should be treated with respect and love and should be able to live no matter what they do.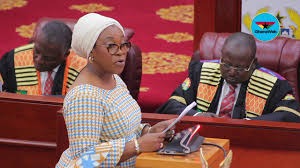 The Minister-designate for Foreign Affairs and Regional Integration, Shirley Ayorkor Botchway, has recoil to the decision of the President of the United States of America. During her vetting on 11th February,2021, Thursday, Shirley Ayorkor Botchway made it clear that Ghana is a sovereign country and has its own Constitution governing it and that every citizen must abide by it regardless of the relationship the Country have with other countries. She also made it clear that LGBT is a criminal act according to the laws of the land and that anyone caught in that act will be sanctioned as the law says.
Do you think the woman delivered well? Leave your thoughts on this in the comment box below.
Content created and supplied by: AgyarkwahJustice(nanabagist) (via Opera News )