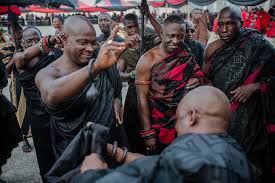 Death among the Akans is never a welcoming experience since it marks a transition of a person from this physical world into the spiritual world. It creates a great loss to the family and loved ones.
Upon struggling to die, a person is forced with water to drink. This is in consonance with the belief that the spirit world is far and therefore should not be embarked on with thirsty throat.
After death, the body is deposited at the mortuary. This is to allow the family to adequately prepare for the final funeral rites.
"One week" is observed for the dead during which a date is announced for the final funeral.
Among the Akans, funerals are usually observed on Saturdays and Sundays. This is to allow loved working class and family the opportunity to take part in the funeral.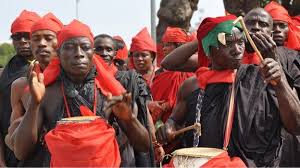 On Friday preceding the funeral day, the corpse is brought home late in the evening. Undertakers then take over to bath, dress, apply incense to the corpse. It is believed that how important the family treates the the dead will also be retaliated back at the family.
On Saturday dawn after the family has done all it's rituals, the body is laid in state for loved ones to file past it. Dress code for such occasion is red and black.
Wailing and dirges (funeral songs) are played. These songs are played to console the family of the dead. People present money and other items to the dead to be delivered to their dead relatives who are in the land of the spirit.
Close to noon, the body is sent to the cemetery for burial. It is the responsibility of the children to provide a befiting casket for the burial of their father mother.
After burial, people disperse for refreshments provided by the family.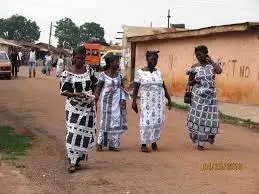 In the afternoon, they again gather to continue with the mourning where friends and sympathizers donate in cash to support the family. This continues on Sunday and on Monday, a family sitting and accountability.
Sharing and comments are welcome.
By: jmahama
Content created and supplied by: Jmahama (via Opera News )