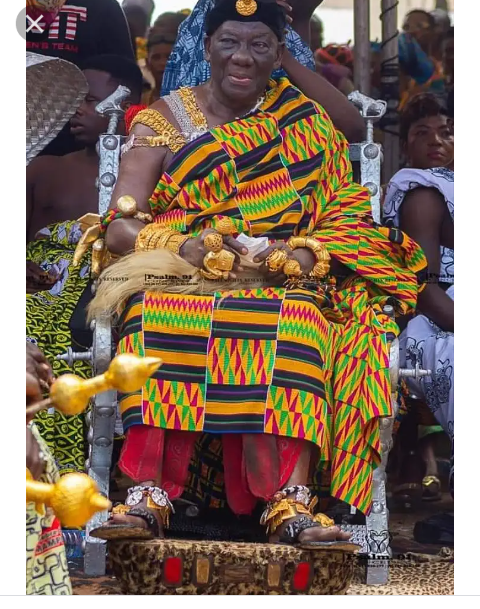 Nana Osei Bonsu II
Mampongmanhene of Mampong
Daasebre Nana Osei Bonsu II, also known as Saint Oswald Gyimah-Kessie (born 31 December 1939) served as the regent of the Kingdom of Ashanti from 25 February 1999 to 26 April 1999. Osei Bonsu II is the Mamponghene (Duke of the Ashanti-Mampong Municipality).
Quick Facts: Osei Bonsu II, Regent of the Asante Kingdom ...
Osei Bonsu II
Mampongmanhene of Mampong
Regent of the Asante Kingdom
Reign
25 February 1999 – 26 April 1999
Coronation
25 February 1999
Predecessor
Opoku Ware II
Successor
Osei Tutu II
Born
31 December 1939 (age 81)
Mampong, Kingdom of Ashanti
Spouse
Janet Dorothy Owusu-Sechere, eldest child of the late JH Owusu-Sechere Commissioner of Police CID/Special Branch
Full name
Daasebre Nana Osei Bonsu II
House
Bretuo Dynasty
Father
Gyimah-Kessie
Mother
Mary Gyimah
Close
Biography
Early life and education
Osei Bonsu II was educated at Prempeh College and at the University of Ghana, where he graduated in 1972 with a BA in economics, political science and modern history. Osei Bonsu II became the registrar of the Kwame Nkrumah University of Science and Technology, Ashanti, in 1991.
Duties
As Chairman of the Energy Commission, Nana Osei Bonsu II attracted criticism in 2005 over Commission funds that were used to buy new cars for himself and the Commission's Secretary, Kofi Asante.
Content created and supplied by: JudaGh (via Opera News )