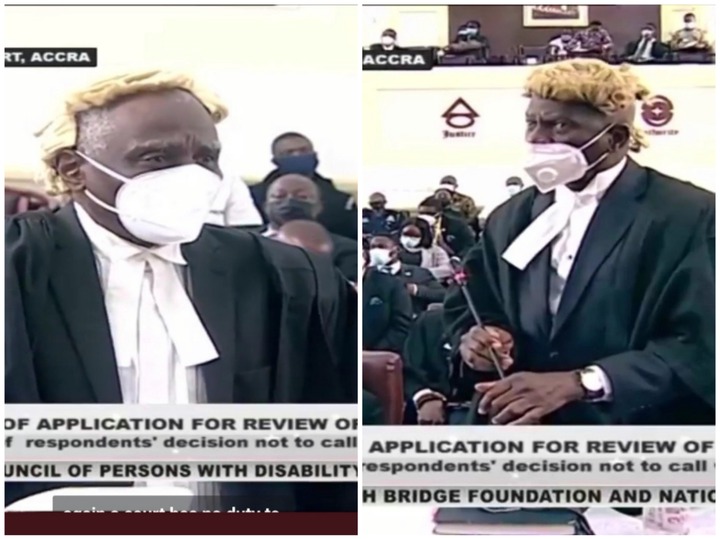 The lead counsel for the petitioner, Lawyer Tsatsu Tsikata couldn't hold his tempers as lead counsel for the Second Respondent [President AkufoAddo], Lawyer Akoto Ampaw insisted that the court denies him an opportunity to question authority the court cited in its ruling that dismissed their application for reopening their case. Tsatsu Tsikata was advancing an argument to delineate the EC Chairperson from the Commission which is deemed a party to the case.
Tsatsu Tsikata asserted that the EC Chairperson is a witness and not a party to the case, and in circumstances where "if that witness is conclusively presumed to be to have put herself forward for cross-examination that witness ought to be made to testify." He cited page 8 of the court's ruling with reference to Nyamekye versus the Ampiah Adjei, to prove that the application of that rule was inconsistent with the context of the case as brought before the court.
But Lawyer Akoto Ampaw was restless watching Tsatsu argue this matter in the court and waded in demanding the court stops him from advancing it. He contended that the argument raised by Tsatsu Tsikata was extraneous to the matter currently before the court, and that should it be entertained, the court would be thrown into unending litigation.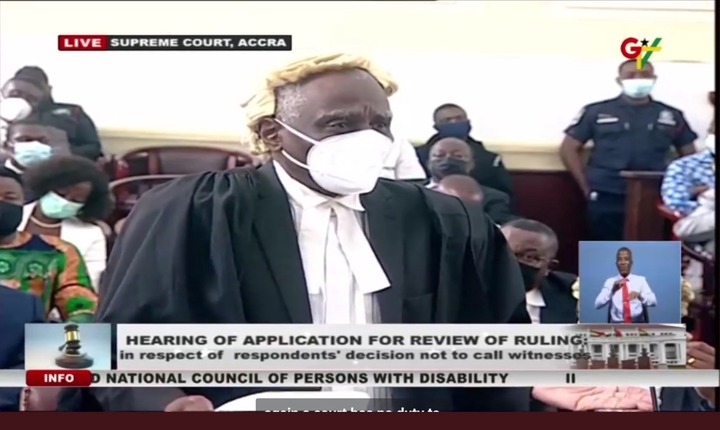 But this never settled well with Tsatsu as he remarked that the counter-argument by Akoto Ampaw is an absurdity. Chief Justice Kwasi Anin-Yeboah learning of the emotional tensions that might ensue from it, asked that Tsatsu minds his language given that the two renowned lawyers are friends.
This is a short script of how it went down at that moment.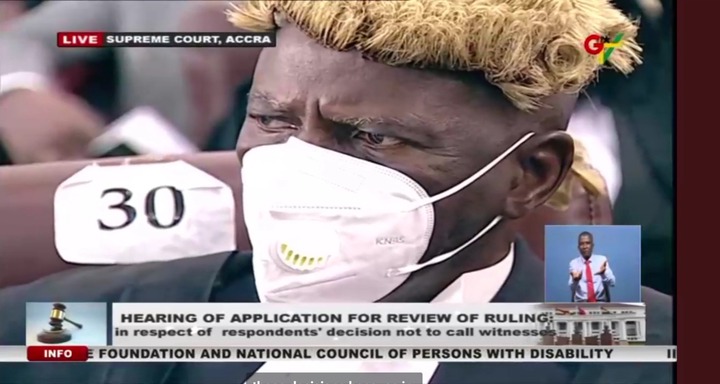 Akoto Ampaw: There is no matter in the affidavit that refers to the individual as a witness and a party. I don't see that, so I don't think he should be permitted to advance those arguments.
 My Lords, if it is not part of his argument, the court with all due respect should not allow him to be introducing new things that we go around forever. This is extraneous to his application.
Tsatsu Tsikata: My Lords, what I am arguing is not at all extraneous. Your Lordships cited a lot of decisions
Akoto Ampaw: My Lords, I may need to come back again. The court may have cited some decisions that he disagrees with but it is not part of this application so he cannot be referring to it. Because the review application will be judged on the grounds... he cannot use the review application to open a door. My Lords, the public is my problem. They are listening to these submissions and if counsel is saying something that he ought not to be saying he should not be permitted to say it.
Justice Anin-Yeboah: He said that we made references to certain decided cases and he has cited Nyamekye versus the Ampiah Adjei decision, so let him address us on it"
Tsatsu Tsikata: ...that a party to a case need not give evidence himself…that is the ruling that part of the justification that your Lordships gave to that ruling. Why am I not entitled to make comments on that? My Lords, this is an absurd proposition before you.
Content created and supplied by: Tinch (via Opera News )