"One village one dam" was a project that was part of the Npp manifesto in the 2016 general election in Ghana which they embarked to supply water to Farmers in the five Northern Regions.
The manifesto is not fulfilled in most of the villages and it is causing more harm than good in the Communities that it was somehow implemented.
The chief of Gaa Community in the Gushiegu constituency in the Northern region has rejected the ongoing "one village one dam" project which is not properly dredged.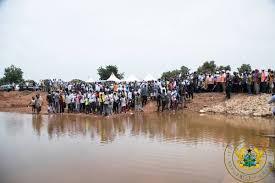 According to the Residents, the project is not properly dredged and the kind of work the contractor is doing cannot help them and has to be stopped if this is the manner in which it would be done.
The "one village one dam" serves as a threat in the Gaa Community and animals get stuck in the mud.
They are calling on the authorities in charge of the project to come and have a look at the kind of work done by the contractor and explain whether that is the kind of dam they were told to dredge.
As of today, 7th April 2021, a cow got stuck in the dam and the community members went and remove it out of the mud.
The chief therefore demand a proper dam or the pit dug should be close.
Content created and supplied by: Zy0z (via Opera News )