"Your hand can seize today, but not tomorrow, and thoughts of your tomorrow are nothing but desire. Don't waste this breath, if your heart isn't crazy, since "the rest of your life" won't last forever."― Omar Khayyám, Quatrains - Ballades
Or in other words, ''things done by half are never done right''. Lets hit again that 'if you cannot do something very well, it's better you don't try because you will be wasting your time''.
Why am I saying all these big big and small small quotes?
I and my everyday research has gotten something again. My attention has been drawn to some ongoing activity in town. It is about the nose mask-wearing that Ghana military and police are ensuring that it is being worn by the general public. The 'claimed' nationwide operation has gotten some unpleasant videos and images that has gone viral. I know it is Nana-Addo who authorized the operation. But I am left wondering about the strategy that has been laid down by the commanders behind the operation and as far as I am concern the operation will not have any positive impact on the coronavirus.
Lets us do some small analysis here.
The military and police are very active at active cities and towns monitoring and ensuring that people wear nose masks to such a strict point that some people are receiving beatings and slaps as a result of their failure to comply with these basic protocols to curb the spread of the coronavirus...but the same military and police have left out the outskirts towns and cities....and whats makes them think that they are doing what they are doing the right way ?.
In every operation, the strategy adopted must be able to achieve maximum positive result else time and resources are wasted.
When my attention was drawn to these lapses within the operation of the military and police to monitor the wearing of nose masks, I deliberately drove through town trying to analyse the strategy being used..and it came clear that what i was thinking was right.
Places like Adabraka, Osu, Accra Central just to mention a few are heavily monitored with beatings and molestations on defaulters but go to areas like Santa Maria, Sowutuom, Anti Eku, Obeye Yie, Asofan, Amamole just to mention a few, people are gathered playing games, some outdoorings with over 100 people, none wearing nose masks, church activities with over 50 people clapping, shouting and praying and none of them is wearing a nose mask including the pastor himself.
Click here and watch how a uniformed military man brutalized an unarmed civilian simply because he failed to wear a mask.
Let us look at it from this point of view.
If the military and police are ensuring that people wear masks in a certain area in attempts to help reduce the spread of covid-19, the objective of the operation will definitely not be successful simply because the operation is covering small areas, leaving out the larger part of the towns and cities.
The areas that has been left out will become breeding farms for the coronavirus which will inturn re-infect the other towns and cities being monitored simply because some of the citizens in the rejected areas will definitely visit friends, lovers and family members in the areas being monitored and once this happens, infections will take place and the spread of the virus will still increase, assuming that those visiting others have contracted the virus from their rejected areas. I hope you get the picture I am trying to draw?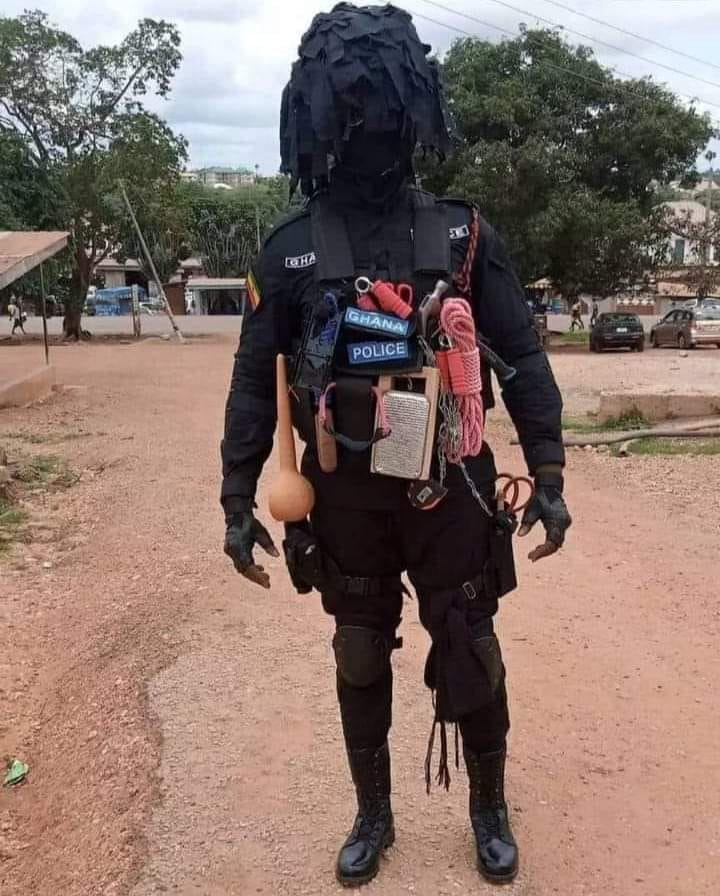 *Image used for illustrative purpose* If you dress like this to monitor wearing of a nose mask, and you brutalized defaulters yet your operations don't stop the spread of coronavirus but rather increases the spread, what do you think you are doing? ern? tell me what exactly you think you are doing.
So in my usual humble opinion, I think the monitoring must be enforced nationwide, including outskirts towns and cities and remote villages as long as people might depart from those places to visit the big cities and towns and return. If the monitoring is not done effectively this way, time and resources will be wasted and the spread will still go on...As i speak, covid-19 cases within Accra alone is 43,044 as at 5 am today 12th February 2021.

My question is if the monitory the military and police are doing is effective, why are the cases increasing? Don't you think the areas that have been left out are supplying the virus through some means that I have mentioned above to the areas that are being strictly monitored?... Or?
What do you also think?
What's your view on this?
Drop your comments,
Share,
Like and follow us
To receive more informative and mind-boggling articles from us
Content created and supplied by: nsemka.com (via Opera News )