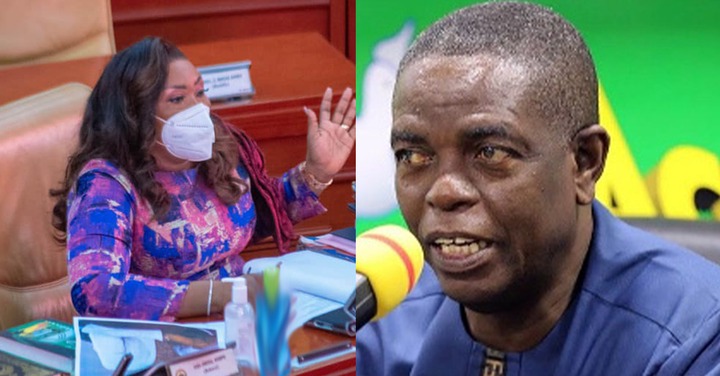 The Performance of Mavis Hawa Koomson as the Minister-designate for Fisheries and Aquaculture has set the entire nation ablaze.
Most Ghanaians have expressed dissatisfaction about the minister for not being able to answer simple questions about the sector she is about to lead.
Some players in the fisheries sector have as well called on the Appointments Committee of Parliament to reject her for the position.
The latest person to add his voice to the conversation is the Editor in Chief of the Insight Newspaper, Mr. Kwesi Pratt Junior. He has raised serious concerns about the nomination of Hawa Koomson as Minister.
According to him, Hawa Koomson has disappointed the entire nation and the person who appointed her to head the ministry.
Mr. Kwesi Pratt Junior who sounded frustrated indicated that he is worried that some persons in the country are trying to defend her performance by shifting the attention to the English language.   
Mr. Kwesi Pratt says he feels insulted by the propaganda of some persons who believe her poor performance is based on only the English language.
"I'm worried by some of the propaganda that is being churned from what is happening in parliament. I'm worried because that propaganda is deliberately dishonest and I feel insulted by that kind of literature. Hawa Koomson was asked a simple question. They wanted to know the three sub-divisions of the fisheries sector in Ghana, and she says that question is too sophisticated for her to answer. The question is broken down and still she could not answer. This is not about English". Mr. Kwesi Pratt Junior indicated.
According to the veteran Journalist, Hawa Koomson has exhibited her low knowledge in the fisheries sector. He adds that Hawa Koomson cannot handle the fisheries sector with such an abysmal performance.
"Hawa Koomson does not know the sector she is going to manage. If anyone looks at us in the face and says her performance should be blamed on English, that person has insulted us. This is because what was required of her was not English. She has zero knowledge of the sector. Look at the performance that was displayed, they should spare us that form of propaganda". Mr. Kwesi Pratt Junior noted. 
Content created and supplied by: AmaMathematics (via Opera News )