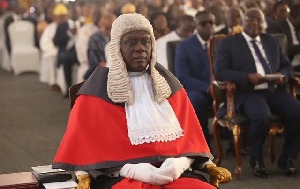 It is unfortunate that in a country like Ghana, citizens who have low knowledge in law tend to insult judges. The administration of justice is a sensitive aspect of the human life. Hence needs to be handled under specified guidelines. Judges are the fundamentals of a country's peace and stability. They can also be the very cause of a country's instability if there is a break in their line of duty. Therefore, one may unknowingly be fueling the flames of the Country's instability if he or she doesn't take cognisance of his or utterances on " the Lords"
However, most people don't know this but always want to criticize judges when their rulings do not favour them. For their information, judges are not there to favour anybody but to rule in line with justice. Infact they don't usually rule in their own interest but in the interest of the Constitution that guides them. So it is unnecessary for people to jump to the sharp conclusion that the judges are not fair anytime it is not in their favor.
A clear example is the ongoing election petition hearing where reputable judges are being blasted here and there for not being fair. The only thing that can influence the judges is concrete evidence. And so without concrete evidence, no matter how strong you think your Lawyer will be, he will still be thrown out of the court. So let's build trust on the supreme Court and avoid unnecessary insults to give them peace of mind to do their duty.
Content created and supplied by: Giinagh.com (via Opera News )