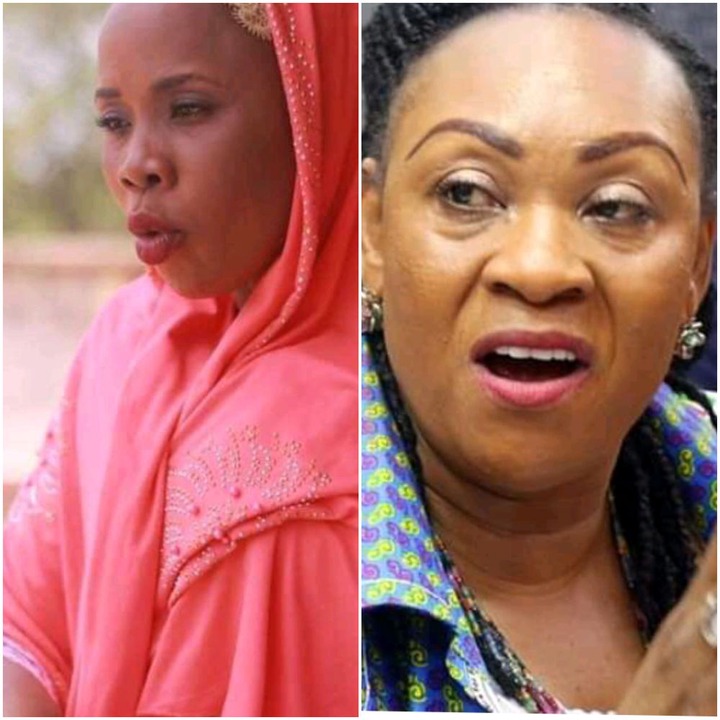 Hajia Humu Awudu(Left) Hawa Koomson (Right)
NPP parliamentary candidate for Wa Central Constituency, Hajia Humu Awudu has referred to public ridicule of Fisheries Minister Designate over Fluency in English as Unfortunate.
According to the director of Hajia Humu Foundation in Wa, English isn't a measure of Intelligence and as a result shouldn't be used as a yardstick to criticize the Lawmaker for Awutu Senya East.
Hajia Humu Awudu Contested Dr. Rashid Hassan Pelpuo in the 2020 Wa Central Constituency Parliamentary Elections but Lost to the Incumbent MP.
Hawa Koomson was before the Vetting committee on February 18th 2021.
Statement
"English language is not common sense..we have a lot of people on this street who speak and write brilliant English but can't handle institution.. we have people who re operational and will do marvelous without big English!"
Some Reactions
Yelpoe Enoch
"All this can't bail Hawa Mavis koomson, she must be axed simple, highly incompetent, can't construct five good sentences"
So Paid
"My dear, don't dare create justification for "HER", being a good team player is to be able to see and say as it is and it does not take nothing from your loyalty, are you oblivious that communication is an essential tool to succeed in any Enterprise? I don't want to believe you are being a blind sychophant?"
Tahiru Lukman
"I have always said English cannot be a benchmark of intelligence. If you mock someone for speaking bad English then your parents and grandparents who never had education are Zoombies.
However, for Hawa Koomson, I am not bordered with her English ability. From attitude, to postering and her performance in the Special Development Ministry especially the comments on the 1V1D was unfortunate. She is not deserving to be a Minister.
Especially with the brag of the NPP they have the men.
She is shambolic"
Akinta Zongo-Prince
"I wish those of you judging her competence because of the poor grammar could read on Jose Mujica, former president of Uruguay and Iddi Amin former president of Uganda.... they might not be educated or speak good English but you need to see how well versed they were with complex matters of the state and distribution of state properties and so on. Iddi Amin was the first to frighten America concerning nuclear weapons...can you imagine that?"
Check her Post Below in the Link
https://www.facebook.com/1190801868/posts/10225365474982441/?app=fbl
Content created and supplied by: Upperwestmedia.net (via Opera News )