Member of Parliament for Assin Central constituency Honourable Kennedy Agyapong has dropped another powerful message to Martin Amidu. He revealed those praising him should be very careful because he is not like what they see.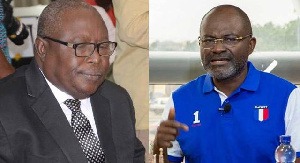 Following Kennedy statement, he will not say anything about him, until the President Nana Addo Dankwa Akufo is sworn in. He will reveal all his plans against National Democratic Party out. Speaking on Net 2 television Kennedy revealed that Martin Amidu was 'in bed' with Rawlings to make sure Mahama loses the election so that it will create the opportunity for Zenator and Martin Amidu to take over the party.
He added NDC were praising him when he was appointed as the Special Prosecutor by Nana Addo of NPP. The opposition party NDC were very happy because they believe NPP was sitting on a time bomb and it will definitely explode and exactly what happened at the time we were getting closer to the election.
Ghanaian were happy because what they wanted to hear they heard it. They celebrated him like an angel but he is a devil they don't know. NDC should be very careful the way they hail him because if they know what is ahead of them they won't do that mistake and he believes one day he will be vindicated.
Thank You For Reading.
Please Share And Follow Me For More Updates.
Content created and supplied by: Lukamberg (via Opera News )