The recent controversy that surrounded the students who were asked to cut off their dreadlocks, also called Raster, before they would be admitted in their senior high school made headlines in the country. Especially the Achimota school case where one student, Tyron Marghuy, was denied an admission to the prestigious School and now the parents of the student has taken the school to court to have an interpretation of the law regarding what they have called their cultural and religious rights to keep the hair of their son.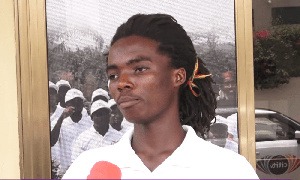 But already there are four other cases like this which had occurred in other four African countries that have been already been decided by those countries court of law. Therefore, these are four countries where courts have had their say concerning Rastafarian or dreadlocks.
1. Zimbabwe
In Zimbabwe a child of 6 years old called Farai Dzvova was sacked from his school because of his hair style. The parents sued the school and Zimbabwe's Ministry of Education for discriminating against their child.
But a unanimous decision by the Zimbabwean Supreme Court ruled that Dzvova could go back to school with his dreadlocks.
2. Kenya
A 15-year-old student in Kenya was asked to choose between his education or her dreadlocks. And when she kept her Rastafarian believes she was sacked from her school.
But however the supreme court in Kenya declared that Rastafarian is a religion in the country and that the student, Ndinda, should returned to her school.
3. Malawi 
In Malawi, a student called Makeda Mbewe was sacked from school for wearing dreadlocks but a high court in the country ordered a statement to the Malawi's Ministry of Education that the child should be admitted back to the school and that no discrimination should come upon her otherwise the court will hold the school authorities in contempt.
4. South Africa.
In South Africa five men were dismissed for wearing dreadlocks from their work. The men, E.J. Lebatlang, T.R. Ngqula, L.T. Kamlana, C. Jacobs and M.W. Khubheka were accused of maintaining an unprofessional appearance while on duty.
But the South African Supreme Court judged that "a policy is not justified if it restricts a practice of religious belief — and by necessary extension, a cultural belief that does not affect an employee's ability to perform his duties". The five men were then re-admitted to their positions in their works and were compensated.
And now we are waiting what the court will say about the Ghana case.
Content created and supplied by: Dapaah_Gh (via Opera News )