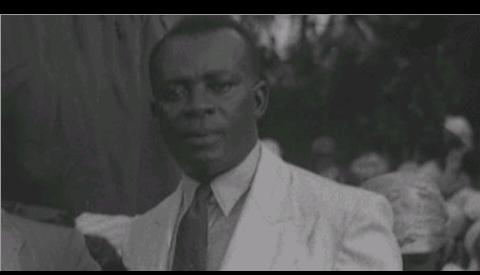 Emmanuel Obetsebi-Lamptey
Ghanaian politician
Emmanuel Odarkwei Obetsebi-Lamptey (26 April 1902 – 29 January 1963) was a political activist in the British colony of the Gold Coast. He was one of the founding fathers of Ghana and one of the founders and leaders of the United Gold Coast Convention (UGCC) known as "The Big Six". He was the father of NPP politician Jake Obetsebi-Lamptey.
Quick Facts: Born, Died ...
Emmanuel Odarkwei Obetsebi-Lamptey
Born
26 April 1902
Ode, Accra, Ghana
Died
29 January 1963 (aged 60)
Accra, Ghana
Occupation
PoliticianLawyer
Known for
The Big Six
Spouse(s)
Margaretha Obestebi-Lamptey
Augustina Akuorko Cofie
Children
Jake Otanka Obetsebi-Lamptey
Relatives
Gottlieb Ababio Adom (step-brother)
Close
Early life
He was born on 26 April 1902 at a small Ga village near Ode, a suburb of Accra. His father was Jacob Mills Lamptey, a businessman, and his mother was Victoria Ayeley Tetteh. His step-brother was Gottlieb Ababio Adom (1904–1979), an educator, journalist, editor and Presbyterian minister who served as the Editor of the Christian Messenger, the newspaper of the Presbyterian Church of Ghana from 1966 to 1970. Obetsebi-Lamptey was educated at the Accra Wesleyan School and Kv. Government Boys' School, from which he transferred to the Royal School in 1921 to complete his elementary education, passing his school certificate examination, he was employed as a shorthand typist by A. J. Ocansey, a prosperous merchant from Ada, a port east of Accra at the mouth of the Volta River. In 1923, Obetsebi-Lamptey passed his civil service examination and became a clerk in the Customs and Excise Department. He worked in Accra till 1930 and in Takoradi till 1934, when he left for the United Kingdom to study law.
Education
He graduated LL.B., and was called to the Bar at the Inner Temple in 1939. By then World War II (1939–45) had begun, and he stayed and worked in England, taking an active part in student politics and in the agitation for colonial freedom.
Personal life
Emmanuel Obetsebi-Lamptey initially married a Dutch woman, Margaretha with whom he had Jake Obetsebi-Lamptey, a New Patriotic Party politician, television and radio producer and advertising businessman.
Obestebi-Lamptey later married a Ga woman, Augustina Akuorko Cofie (17 December 1923 – 14 November 2019), younger twin daughter of William Charles Cofie and Irene Odarchoe. She was a co-founder of the Gold Coast Women's Association and a former tutor at the Accra Methodist Girls School from 1947 to 1953. In 1970, she became the first Ghanaian woman to be appointed envoy to Liberia. In the Greater Accra Region, she was involved in philanthropy in the women's prisons. Obetsebi-Lamptey had two children with Cofie, Nah-Ayele and Nii Lante.
Legacy
There is a roundabout on the Ring Road West in Accra named after him. Emmanuel is best remembered for his actions taken as a "Big Six" forefather for Ghana. Leading the United Gold Coast Convention (UGCC), he was able to bring about political, social and economic change needed to declare independence from the British in 1957. Monuments and Roundabouts designed to honor Emmanuel and the other fathers can be found throughout the streets of Ghana today. The residents of Ghana recognize his achievements throughout history and continue to respect these political figures with the use of monuments and public displays.
Content created and supplied by: JudaGh (via Opera News )