The Member of Parliament for Assin Central Constituency, Hon. Kennedy Agyapong has hit the grounds running already for the much coveted Chairmanship position in the New Patriotic Party (NPP) in Ghana, which will happen some 2 years away from now.
The poster was leaked online by an NPP party youth executive, who has close links to many stalwarts in the party.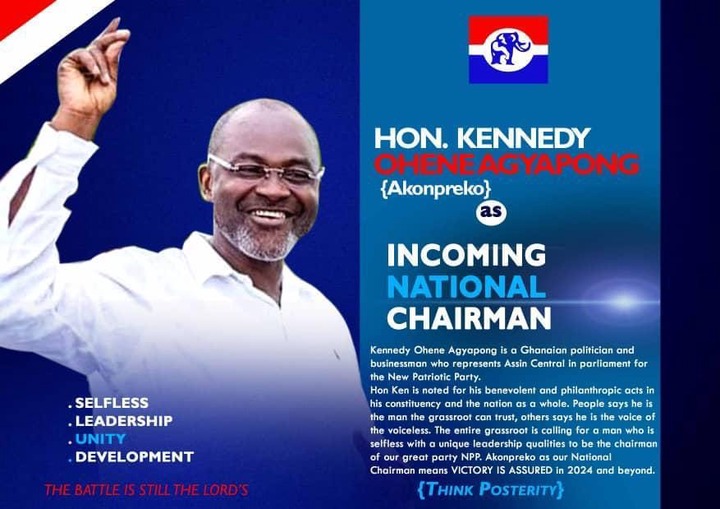 This is clearly a show of support from them to his candidature, whereas the reasons are largely unknown, one can easily speculate as to why his interest in this position.
One can say without a doubt that, the enthusiasm that was broad based in the current Chairman's election did not do a special trick for the party in the last elections, that saw them loose a strong hold of power in parliament to a partnership with its own and now turned independent candidate, to be able to latch on even to a near hung parliament majority group title.
Hon. Kennedy Agyapong already before the December polls, had hinted of his intent of not contesting the Assin seat again, but was convinced to go again for the peoples request sake.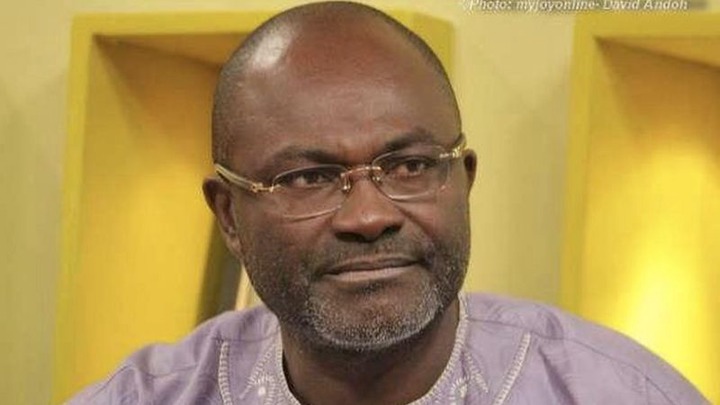 Hon Kennedy Agyapong in a pose. (credit: taken from Wikipedia)
His candidature is supported broadly by some stalwarts in the party who strongly believe that, his approach of frankness, hardness and intelligence gathering can best position him to allow the NPP to win in 2024, as they argue against the Freddie Blay candidature that, if he couldn't give them a resounding win whiles they are in power and with key national interventions like free SHS and IDIF, then he will not have much to show when the 8year duration given to a party in Ghana traditionally cannot be broken.
Hon. Kennedy Agyapong's personal wealth may also come in handy, as this could help them invest in the campaigns and people to win a resounding victory. It must be noted that, his greatest trump card will be how he can convince them that, his tantrums can be to the advantage of the party, as many fear his utterances and actions may rather dwindle his chances of taking over that sacred position.
Kennedy Agyapong is a politician and business tycoon .He was born on June 16, 1960, to Francis Ohene Kofi Agyapong one of three prominent Ghanaian judges who was abducted and murdered during the early years of Ghana's Provisional National Defense Council.(PNDC), and Mrs Mary Nsiah at Assin Dompim in the Central Region of Ghana.
He attended the Mfantsipim School in Cape Coast and obtained a BSc Degree in Civil Engineering from the Kwame Nkrumah University of Science and Technology in Kumasi. Kennedy Agyapong for a long period of time hosted sports Programs on Ghana's State Television Station owned by the Ghana Broadcasting Corporation. Agyapong worked for a long time with the Ghana Highway Authority. He also owns a civil engineering firm, Constro Consult Limited.
Kennedy Agyapong is married to Lawrencia Agyapong and has three children. He is the representative of the people of Assin Central constituency as their Member of Parliament. The wealthy, outspoken, "no-nonsense" politician owns a number of companies which includes; Oman F.M, Ash F.M, Net 2 TV, Super Care Company Limited (Air Conditioners Dealer), Mina D'oro Ventures, M/S Imperial World Business Limited, Gold Coin Communication. Despite being known as a businessman, Kennedy 's business transactions has been widely questioned by most people in Ghana including his peers.
On a number of accounts he has been accused of being a drug lord, however with no concrete evidence against him, all the charges are nothing more than rumors. There is more to this including his high-end vehicles and numerous investments he has.
He brought the city to a standstill with a single purchase, a bed. Kennedy Agyapong notes that bed in his bedroom cost him $80,000; a whopping 3.12 Billion old Ghana Cedis. Amidst these spending, Hon. Kennedy Agyapong net worth is not well known since the MP has never come out clear even when confronted with these questions.
However, judging by the spending and businesses the MP owns, it's without a doubt that Kennedy Agyapong is among the top 10 richest people in Ghana.
Content created and supplied by: MrPresidentFrank (via Opera News )