The Ghana Education service has released a letter addressed to all Regional Directors of the Ghana Education Service concerning the directives from the Office of the Chief of Staff and the Office of the President suspending this year's 6th March Independence Day celebration and it's related activities.
The directive to suspend the celebration, the letter revealed was received in a letter dated 11th February, 2021 from the Office of the Chief of Staff and the Office of the President of the Republic of Ghana "due to the high prevalence rate of Covid-19 cases in the country.
The letter which was dated 15th February, 2021 and signed by Anthony Boateng, Deput Director General (MS) Ion behalf of the Director General have directed all Regional Directors to bring to the notice of all Metropolitan/Municipal/Diatrict and all institutions under their jurisdiction for strict compliance.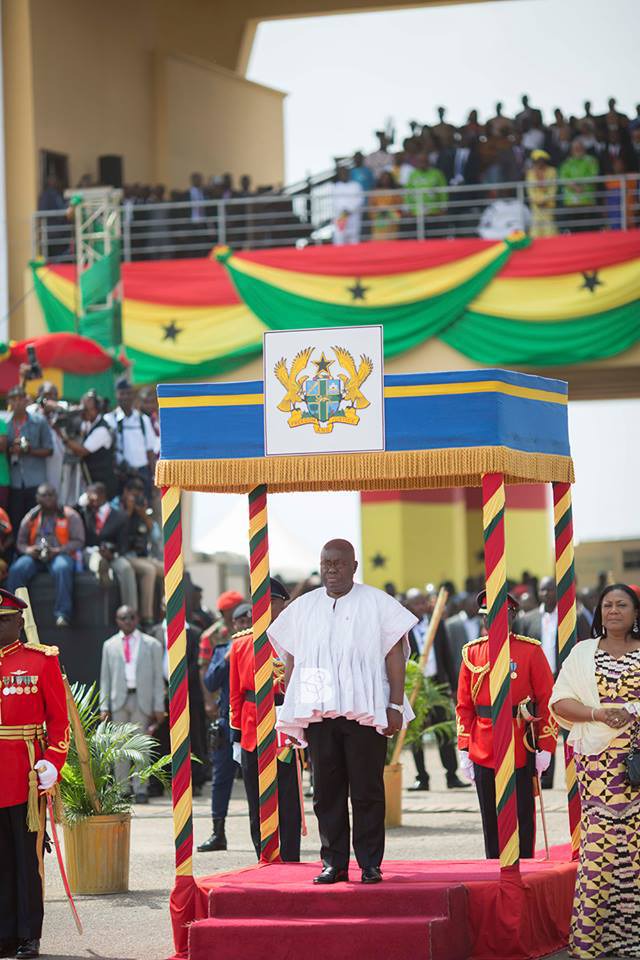 The letter the fore stated that "consequently Management of the Ghana Education Service wishes to inform all regions that the 46th Independence Anniversary Parade on the 6th March, 2021 has been suspended forthwith across the country. The letter has also been copied to the following:
The Director-General, GES HG, Accra
The Deputy Director-General, (G&A), GES HQ, Accra
The Director, Schools and Instructions, GES HQ, Accra.
Below is a copy of the letter from the GES to all Regional Directors of Education.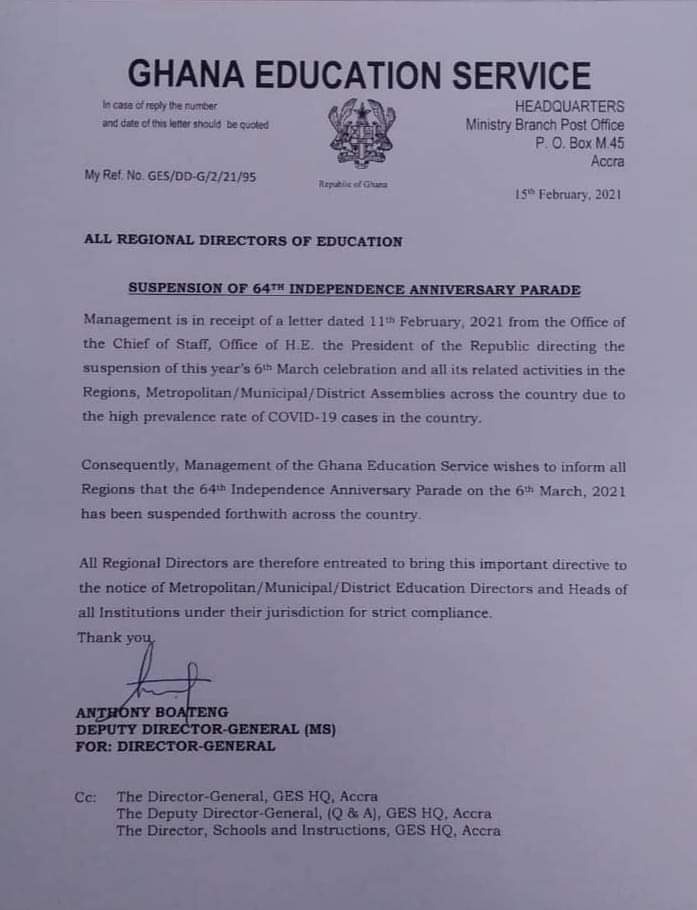 6th March is celebrated every year to mark the day which Ghana gained independence from colonial rule under the leadership of Osagyefo Dr. Kwame Nkrumah. This year's 6tj March marks the 64th Independence celebration which means that Ghana marks 64 years after independence. The occasion is usually graced by dignitaries from around the world in the national level, with schools also converging at certain public areas to mark this celebration across the regions and districts in Ghana.aat year, the venue was changed fro Accra where it has been celebrated over the years to Tamale, on the directives of His Excellency Nana Addo Damkwa Akuffo Addo.
This suspension comes in the wake of rising number of Covid-19 cases as well as rising death toll. The president has since announced restrictions on funerals, wedding, beaches as well as other public gatherings, restrictinf the numbers in other to help reduce the spread of COVID-19.
Content created and supplied by: PoliticalNewsRoom (via Opera News )