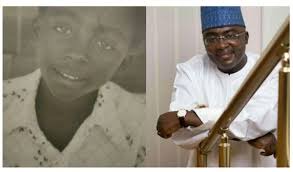 The picture shows Dr. Bawumia at his younger age and how great he has become now in Ghana.
Well, Ghana and the NPPs especially will be very thankful to the parent of Dr Muhamudu Bawumia for giving birth to such a great leader to lead his people. Alhaji Mumuni Bawumia and Hajia Mariama Bawumia are his parents
Dr. Mahamudu Bawumia was the Deputy Governor of the Bank of Ghana until he was nominated as the vice-presidential candidate of the New Patriotic Party (NPP) in 2008, standing alongside presidential candidate Nana Akufo-Addo. He also ran as the NPP vice-presidential candidate in the 2012 general elections 
Currently, he is a Ghanaian economist and banker and the current Vice President of Ghana and has devoted himself parter for the bitterness of Ghana and the NPP party. His efforts has made people to choose him as the person creditable to lead the NPP in the 2024 presidential election.
Content created and supplied by: Glasss (via Opera News )