Sad news hits Asante Akyem as youth drum out an 'Akan Chief'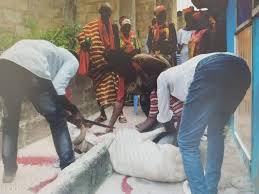 Residents and youth of Asante Akyem Wenchi, has taken traditional matters into their own hands, after a Chief was involved in an atrocious crimes. The Town Chief "Kronti Hene" of Asante Akyem Wenchi, of the Asante Kingdom, has been destooled from his seat as a Chief to the Omanhene of the town. Kronti Hene, the Akan Chief subject to rule a town in the absence of a traditional king "Omanhene", is a person who overseas the running of the town in terms of administration and ceremonial duties. The people of Wenchi in the Asante Akyem Traditional Council, has since 2017 been complaining of the atrocities the Chief, Nana Banu Agyemang was doing. 
According to Samuel Obanag, anyone who sends his marital case to the chief ends up crying, because he will either take your wife or aid in the divorcing process. None of the marriages that has been taken to Nana Banu, has survived. And they kept worrying until last week, when Abdulai's wife confessed to the Chief, messing with her God given engine. Abdulai lives with his legally, and traditionally wedded wife at Konongo. They both have been married for four years and was living with no problems until, Abdulai's wife was operated on at Agogo Referral Centre. Abdulai took his wife to Wenchi on March 2020, after the operation, so his mother in law can take care of the wife. 
Kukuaa Abdulai's wife, failed to go back to Konongo after her surgical wounds were healed, and kept avoiding her husband. Not knowing, Wenchi Kronti Hene has taken over Kukuaa's heart, knowing perfectly well she was a traditionally and legally wedded wife. Kukuaa has been seeing Wenchi Kronti Hene since April 2020, and that made her avoid her husband completely, anytime he tried to take her back to Konongo. Kukaa kept demanding higher things from Abdulai, if he wanted her to return back to Konongo. Kukaa wanted GH¢10,000 to start a shop and a car from her husband, before she will locate back to Konongo. 
Abdulai never understood this until he confined in a friend, who advised him to investigate his wife. Abdulai on January 21 2021, caught his wife red-handed with the Kronti Hene, enjoying in the car of the Chief. Abdulai who still wanted his wife, wanted to settle the matter in peace, and reported to the Wenchi traditional council. Kronti Hene Nana Banu was called by the Wenchi Queen Mother, and it was there he accepted his crimes and pleaded for forgiveness. He was asked to compensate Abdulai with GH¢3,000, and six fatty sheeps. Kronti Hene paid GH¢500 of the 3,000 on spot, and asked to pay the rest next week Friday. 
Youth of Wenchi after the judgement yesterday, were waiting for Kronti Hene in his house, whiles he was still at the Wenchi Palace. Immediately Nana Banu got to his house, the youth forced him to sit down, and slaughtered a grown sheep on his feets, and removed his Chieftaincy title. The youth could not afford having such a man to be their leader again, and destool the Chief right in front of his house at Wenchi. They presented the Chieftaincy royalties to the Wenchi Palace, and it was accepted in good faith by the Queen Mother of Wenchi, who officially pronounced the Kronti Hene seat vacant yesterday. The Queen Mother rolled the black cloth for the natives, that a vacant seat has been pronounced. The Omanhene, traditional ruler of Wenchi has taken a leave of absence, and is scheduled to return back in six months time. Where he will take full control for a new chief to be enstooled, upon his arrival.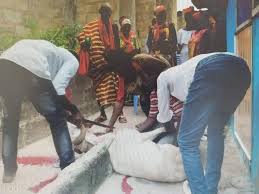 Content created and supplied by: RockyJDJones (via Opera News )