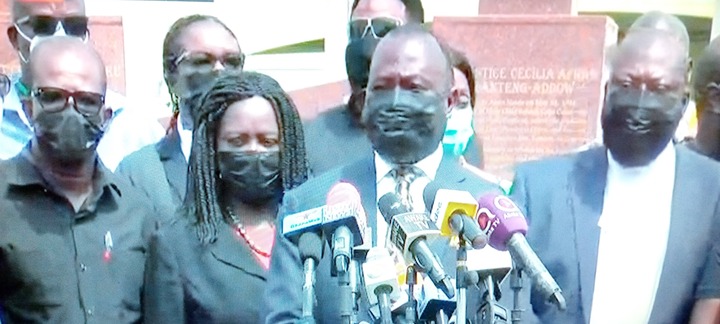 The legal councils of both the ruling NPP and the opposition NDC were in high spirit in court on Tuesday 2nd February, 2021 to continue with the proceedings as by law demands. This was evidently seen as both parties involved stated their confidence in matters arising in the supreme court after the cross-examination of Dr. Michael Kpessah Whyte, who was the Petitioner's Second Witness. Both legal teams from other sides of the court claimed they all had an excellent time and performance in court.
Lawyer Dominic Ayini in addressing the press on behalf of the NDC emphasized that the Chairperson of the Electoral Commission (EC), Mrs. Jean Mensah, was exposed by Dr. Kpessah in cross-examination. In the NDC's view, the EC Chairperson acted in bad faith after she decided not to wait for the NDC representatives who were instructed by same EC Chair to deal with the matters of concern arising during the election before her declaration. The NDC representatives in the 'strong-room' then with respect to Mrs. Jean Mensah and in due process of the law, went ahead to consult the Former President John Mahama before coming back to redress the issues as agreed by the commissioner. Only to hear, while they were away, that the Chairperson was announcing the Presidential result in their absence and acting without their consent as a major stakeholder in the election.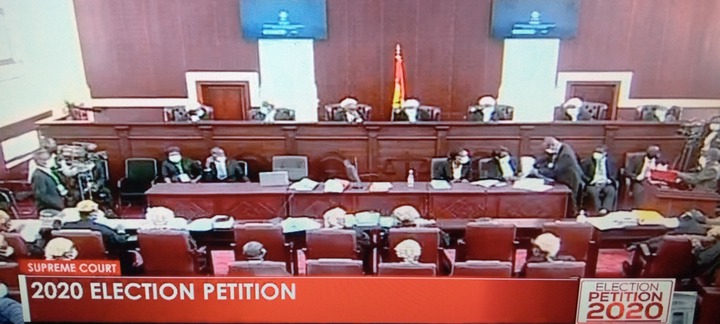 The EC's act, indeed, appeared to the NDC that the Chairperson was determined by hook or crook to declare His Excellency Nana Akufo-Addo as the president of Ghana. The NDC again believes Dr. Kpessah explained the issues laid before him vividly and credibly as a witness should.
The NPP Spokesperson, Hon. Kojo Oppong Nkrumah, also admitted that their day in court had been excellent. He stated the flawed nature by which Dr. Kpessah consistently interchanged the words "Ask" and "Instruct" to mean the same, and as claimed to be directed by the EC Chair. He applauded learned Lawyer Akoto Ampaw, the lead legal council for President Nana Akufo-Addo.
Mr. Oppong Nkrumah again revealed that such inconsistent act from Dr. Kpessah made it easy for Lawyer Akoto Ampaw to cross-examine and the need to just ask few questions.
THIS WE HOPE WOULD TURN INTO INTERESTING TIMES AS COURT WAS ADJOURNED TO A LATER DATE. WHAT DO YOU THINK ABOUT THIS TIMES AHEAD..
CLICK FOLLOW+ (For more updates on happenings)
DROP YOUR COMMENTS NOW..
Content created and supplied by: Koku1 (via Opera News )