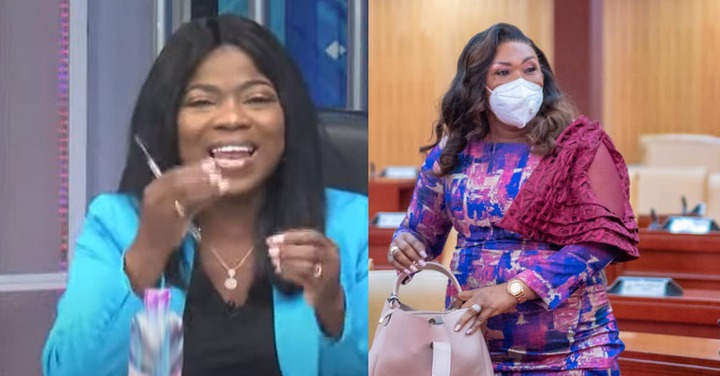 The host of Critical Issues on United Television, Afia Pokua who is also known as Vim Lady has burst out in anger over the vetting of the minister-designate for Fisheries and Aquaculture, Mavis Hawa Koomson.
Mavis Hawa Koomson has come under public baptism, after what many has described as an abysmal performance when she appeared before the Appointments Committee of Parliament.
The Minister was unable to define some basic terms in Agriculture. A situation in which many have called on the appointments committee not to approve her nomination. Others are making mockery over her poor command of the English language.
Reacting to the development, Afia Pokua indicated that it is unfair for Ghanaians to make mockery of Hawa Koomson because of the English language.
According to her Ghana is thriving on traders who do not have any form of command over the English language. She adds that there are countries whose economies are top-notch but do not rely on the English language.
"Allow me to speak the truth. Ghana is not about English. There are good traders with no education background holding this economy with the huge income they make daily. There are countries that do not rely on English language but their Economies are growing. After speaking English for all these years Ghana cannot boast of anything. So nobody should blame Hawa Koomson". She noted.
Afia Pokua noted that Hawa Koomson is now heading to the ministry and cannot largely be blamed for her low knowledge of some key terms. She added that women should be protected to occupy key positions in government.
"I don't have to keep quiet over this. I'm also a woman and when it comes to issues relating to women, I'm biased. We can argue her answers on policies. Even on policies, she is now going to the fisheries sector. She had no time to research for the new role. We should all be fair to Hawa Koomson". Afia Pokua added.
She added that the fisheries sector uses the Akan language as a mode of communication. Afia Pokua added that Hawa Koomson was able to win her parliamentary seat when those who have command over the English language lost.
"We cannot use English to denigrate her. We don't use English for fishing. Yes, it can be used for policies, but her sector is not about English. She won her election with the same status. We can review her and access her performance every two years than lambasting her after vetting". Afia Pokua noted. 
Content created and supplied by: AmaMathematics (via Opera News )