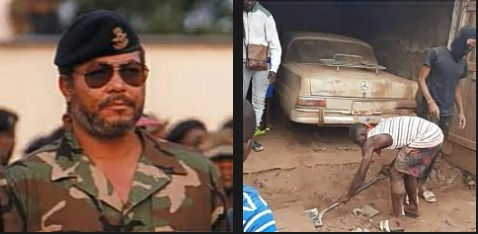 Most people know the history of how Rawlings became president through military take over.
When he was president, he shows no tolerance to corruption.
According to history, he would do all he could to seize the property of government from any corrupt person.
Mostly, when you are seen with so many luxurious things, you become a suspect of corruption.
According to Saddick Adams, he claimed there was this man from Bono Ahafo Region who had his expression Benz at the time of Rawlings. When Rawlings notice him, he was trying to seize the car from him.
Do you know what, this man did the unbelievable. He hide the car in a metal garage just to save it from Rawlings.
Find below the full post of Dams on his facebook wall:
"For those who grew in BA, this man was very rich and popular in the 1970-80s. He was the only millionaire who could acquire this Mercedez in the early 80s when JJ Rawlings was Military leader. Rawlings wanted to seize the car so the man made special metal garage to hide the car."
Content created and supplied by: Mr.Blazing (via Opera News )